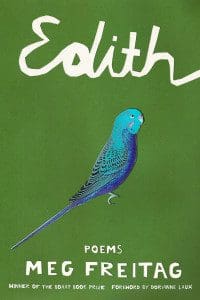 Meg Freitag's Edith (83 pages; BOAAT Books), winner of the inaugural Book Prize from BOAAT Press, comprises a series of vivid, voice-y lyrics addressed to a pet parakeet—the titular Edith—who dies halfway through the book. It turns out speaking to a pet bird makes a certain kind of affectionate disclosure possible; the experience of reading these poems is often one of overhearing an earnest speaker struggling to explain herself to a tiny, mute beloved. But the speaker's love for her pet is also inextricable from her tenderness toward the world, and her mourning for Edith is bound up in other losses, too, including the end of a relationship, a transcontinental move, and the deaths of friends and idols.
This intimate address is only part of what makes Freitag's speaker so endearing. She's also winningly imaginative, once comparing heartache to an elaborate pinball game, and standing beneath a glowing sky to being "inside / A plum … some needful giant / Was holding a flashlight to." In a scene typical of Freitag's dizzying dream sequences, the speaker is "walking around Costco / Without any skin on while a throng of people / Followed [her], clicking those little devices / Which are meant for training dogs / Every time [she] touched something." The book is also carefully, almost novelistically structured; while we know from the get-go Edith is doomed, the events of her death reveal themselves with suspenseful, dilatory slowness.
Long before the book's publication, my friends and I read and circulated all the poems of Freitag's we could find online, gushing about their luminous nouns, their surprising swerves, and their unspooling epic similes, which manage to precisely characterize our mushiest, most interior experiences. Who hasn't watched their lover from across the room "like a snake / With its eye on a prairie dog's / Hole?" Who hasn't, in the throes of dread, felt "all the blood / Moving through [them] with great / Effort, like it was full of seeds?" In the following interview, conducted over email, Freitag discusses how exactly images like these occurred to her, as well as mirrors, dreams, and writing by ear. 
ZYZZYVA: The majority of these poems are addressed to Edith, who we learn is the speaker's pet parakeet. Over the course of the book, I feel like Edith evolves from a mourned pet to a sort of emissary from the afterlife; speaking to Edith becomes a way of speaking to the dead, or to the void, or to an indifferent god. What drew you to this kind of highly lyrical, odic apostrophe?
Meg Freitag: I've always been really interested in recurring characters in poetry collections. John Berryman's Henry, Bill Knott's Naomi, Herbert Zbigneiw's Mr. Cogito, for instance. At the time when I started the Edith poems, I was reading Josh Bell's No Planets Strike, which is a wonderful and bewildering book. He uses the name "Ramona" like a touchstone in his poems. No matter how wild they get, he's able to pull the poem back to its center with just three syllables.
When I first started writing to Edith she was still very much alive. I had no idea the turn things would take. The Edith poems started as a kind of exercise, a way to lighten up my writing a bit and hopefully generate more material for workshops. Edith and I had been through a lot together over the years, and I was taken with this idea that she'd been passively complicit in it all through witness. I was still searching for my "voice" at that time. When she died about six months into the project, the whole project immediately took on a new significance. I don't know that at any point during the writing process I thought about the Edith poems as eventually comprising a book with a cohesive emotional arc, with a sort of composite narrative. This is something that only really revealed itself to me when I was putting the book together. During the writing of the poems, I just had this feeling that I followed through its evolution and eventual natural conclusion. It was all very organic for me.