April feels as though it's come in gone in a flash (though we did make appearances at the Orcas Island Literary Festival and the Los Angeles Times Festival of Books), but we're taking time out to share what ZYZZYVA recommends this month—a roundup of the works we've been reading, watching, and listening to: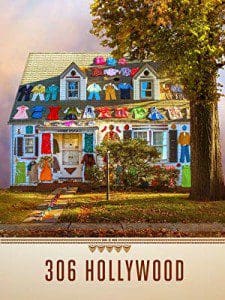 Josh Korwin, Graphic Designer: "If you didn't have the physical remains of the past, the question would be whether it existed." 2018's 306 Hollywood (directed by Elan & Jonathan Bogarín), billed as a "magical realist documentary," is otherworldly, yet perfectly ordinary. On the surface, the film revolves around the life and death of the filmmakers' grandmother, Annette Ontell, and the ramshackle house she left behind. "Messy" would be putting it nicely ("This'll be a shanda to show all this garbage!" Ontell remarks), but the Hillside, New Jersey house's significance and inspirational role to the grandkids is contagious when seen through their wondering, childlike perspective. It's a reminder of how when we're young, anything can feel magical.
After her death, the Bogaríns decide "we're turning grandma's house into an archeological dig" before it is sold. This countdown premise provides a background rhythm for the film, which is otherwise a somewhat wandering meditation on memory, scale, and impermanence. Its rambling at times is forgivable, as a lively raconteur goes off on tangents while remaining utterly captivating. Not every story need be neatly told; along the dirt roads we find buried treasure.
The filmmakers have a peculiar fascination with the aesthetic of yesteryear, explicitly ogling type and lettering specimens from the past (swoon!). The opening and interstitial title cards primarily consist of hand-set letterpress prints by the talented designer/printers at Hammerpress, plus hand-lettering, foil stamped faux book covers, etc. They're newly made artifacts in their own right, "imprints of time pressed into" the film itself.
Most spectacularly, the Bogaríns commissioned a tiny replica of their grandmother's 1936 cottage, complete with its mid-century tacky-chic patterned wallpaper, wood paneling, and rose-pink tiled bathroom, all perfectly miniaturized. The exquisitely placed dollhouse toilet paper rolls and Saltines boxes add to the film's Wes Andersonesque twee vibe, with a soupçon of I Like Killing Flies.
Can you bring someone back to life by examining their worldly possessions? Not entirely. But the Bogaríns' elevation of household objects as archeological artifacts, shot reverently as though plinthed in the Metropolitan Museum, help us to remember, and to feel. Macro-lens textures of floral terry cloth and plastic CVS shopping bags are surprisingly gorgeous, and moving. Their Knolling and color groupings of office supplies into archaeological "catalogues" is bound to set off some ASMR for the obsessive compulsive designer types among us.
The film captures the specific cocktail of pain, joy, curiosity, learning, and grief that accompanies rummaging through a loved one's house after they pass away, and the immense weight of all the stuff we carry around with us until it's left to someone else to figure out.
This film hits particularly close to home for me. Ontell, in interviews filmed by Elan Bogarín over ten years, was a gem; she reminds me of my own sorely missed Jewish grandparents. As a people ever dispersed, our roots on this continent are extremely shallow. Our ancient heirlooms are lost, so Band-Aid tins full of pennies carry history in their place.
Conversations with an archaeologist, a fashion conservator, and an archivist at the Rockefeller estate contrast the lives of the important, famous, and wealthy from the lives of the anonymous and modest. Privilege leads to preservation ("we're the winners so we get to tell the story that we want to tell"). But humanity transcends class. The Rockefeller archivist is asked, "is documenting your family's history as important as documenting the history of the Rockefellers?" "Yes of course," he replies, "my grandparents were hugely important. To make a qualitative judgment that they somehow didn't have value, and so we're not going to save a record of their existence, tells a kind of story that we don't want to tell about this nation, which is that it's only great and wealthy people who have value."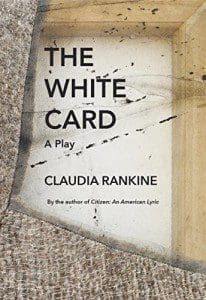 Casey Jong, Intern: Claudia Rankine's The White Card is a concise and captivating two-scene play that begins at a dinner party for an artist, and ends in her art studio a year later. Rankine uses the creation and collection of fine art as a metaphor for the interrogation of our relationships with race and consumption of blackness.
The play has only five characters, including artist Charlotte, a black woman in her forties being courted by a wealthy white art collector and his family. Rankine seamlessly and quickly crafts white characters who don't fit the mold of overt racists or smug wealthy conservatives, and who, for that very reason, consider themselves to be on the "right side" of the racial injustices of history and of today. These collectors of "black death", as Charlotte frames it, are able to put political and racialized artwork on their walls without ever engaging with the politics or the humanity of affected black people:
Look, I don't want to think of the officer as a monster of Hulk Hogan or a demon or whatever and I don't think you're a monster, but his obsession with black people as criminals and yours with black people as victims are cut from the same cloth. Neither is human.
The dynamics between Charlotte and the collectors are complicated by both the transactional nature of their interactions, and also by the family's fascination with Charlotte and other black figures like Venus and Serena Williams, Barack Obama, Ta-Nehisi Coates, and others. Their first conversations gesture at misplaced guilt and a fundamental misunderstanding of what they believe they're fighting for. Their activist son also plays an interesting role, one that may feel familiar to and critical of many readers, as he understands much of what is wrong with America but continuously overlooks the nuance of the issues he is fighting.
By the end of the play, Charlotte's experience at the dinner has changed her art and perspective dramatically, and she clearly plans to continue shifting the perspective of others with her own work. One of Charlotte's greatest insights comes when father and son are fighting at the dinner table, each of them insisting on one specific dimension of the larger conversation: "All things can be true at the same time." The power of this simple line, to me, is in the tough questions it invokes in the context of this play: How might we face the realities of racialized violence without commodifying and numbing ourselves to the harm done to black people? How can whiteness, not just blackness, be addressed?