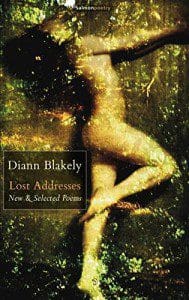 "My fear is the common one, that her poetry should be lost,'' Rodney Jones writes in the introduction to Lost Addresses: New and Selected Poems (100 pages; Salmon Poetry), a posthumously released collection by his friend and fellow Southerner, Diann Blakely.
"There are ample reasons for a poet to be neglected, temporarily submerged in a trend, or permanently effaced, for poetry is a cold media and the music that the claim of poetry rests on may not always be acknowledged,'' he adds. "This book is proof against forgetting."
Indeed. Blakely, who died in 2014, had a light that burned brightly, but the questionable benefits of self-promotion, let alone branding, were alien to her spirit. (In addition to this volume, her longstanding project, Rain In Our Door: Duets With Robert Johnson, is to be published by White Pine Press and another collection, Each Fugitive Moment; Essays, Memoirs and Elegies on Lynda Hull, is forthcoming from MadHat Press.)
Her verse unites respect for form and for precursors like Eliot and Plath with down-home tributes to high and low culture, from Sid Vicious to Foucault. She gives us imagined renderings of the real life meetings between Helen Keller and Mark Twain. In "The Story of Their Lives,'' she writes:
Dear Reader, spellbound
Or bored with cryptic addresses, bored
With other lives and voices, it's time to loose
This story, to let Helen float away
From Westport, childhood, Los Angeles: you choose
Her resting place.