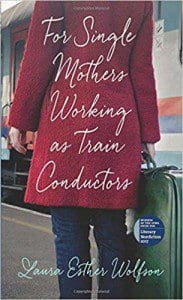 Laura Esther Wolfson's debut memoir is eye-catchingly titled For Single Mothers Working as Train Conductors (176 pages; University of Iowa Press). Wolfson is a translator, not a train conductor, yet both professions lend themselves to traveling across borders while maintaining a certain distance—throughout the collection of short stories, Wolfson moves between countries, from the USA to France to Georgia; between languages, from Russian to French to Yiddish; and between her own story and the stories of others. Wolfson's crossings are propelled and connected by a variety of forces, including her love for her two ex-husbands, her research into her previously unexplored Jewish heritage, and her suffering from lung disease.
Part of what makes For Single Mothers Working as Train Conductors—which won the 2017 Iowa Prize for Literary Nonfiction—so unique is how Wolfson's relationships with different languages affect her relatively commonplace experiences. In "The Husband Method," for example, Wolfson remembers her and her Russian husband's transition to America, and how Russian became their private language. On the other hand, Wolfson shares in "Proust at Rush Hour" how French provided her with a steady job. Yiddish, a language Wolfson is far less fluent in than Russian or French, mends her broken identity in "The Book of Disaster" in a way no other language is able to do. Wolfson recently spoke to us about the way she blurs fiction and non-fiction, the role of humiliation in writing, her literary influences, and more.
ZYZZYVA: In the beginning of "For Single Mothers Working as Train Conductors," the eponymous short story that gives insight into your first marriage, you write: "Reader, I married her son." What's the significance of your allusion to Charlotte Bronte's Jane Eyre?
Laura Esther Wolfson: At first, the Jane Eyre allusion was nothing more than a joke. The reader thinks she knows what's coming, because "Reader, I married him" is so familiar. But, approaching the end of that sentence, she cycles rapidly through a shifting series of expectations and dawning understandings: first, lulled by the initial familiar words into not following too closely; then, brought to attention by the initial twist: the female narrator's "I married her," so that, if she pauses on the penultimate word, 'her,' the reader may briefly imagine that the narrator married her, the mother-in-law–which, in a sense, she did. (Gay marriage was of course unimaginable at the time of the events recounted and remains so in today's Russia.) Finally, she grasps that these words, followed by 'son,' in fact introduce the narrator's husband.
After For Single Mothers Working as Train Conductors came out this spring, a friend who has championed my work for decades pointed out that by addressing readers directly on the first page, I was flinging wide the door and welcoming them into the book in its entirety. Placed at the opening of the book, the Jane Eyre sentence takes on a larger significance than it possessed when that section was originally published on its own, in a magazine.
Z: Throughout many of the short stories, you discuss your efforts to connect with your Jewish heritage. For example, you devour the works of Jewish writers and study Yiddish. What made you hungry, as an adult, to explore your origins? As you note in "The Bagels in the Snowflake," you did not grow up practicing Judaism, and the Snowflake Bakery was the "sole passageway" you had to your heritage. 
LEW: As a child, I was told that the descriptors "Jew" and "Jewish" applied to me, yet I knew nothing, but nothing, about the meaning of those words. They were a locked box. Imagine being told all your life that you are French, yet when you find yourself among French people, you cannot converse with them in what is supposed to be your common tongue. You don't know what Paris is, or Bastille Day. Imagine a Jew who doesn't know who Moses was, or the meaning of Yom Kippur—basic, basic things. That was me. Eventually, this unknowing struck me as peculiar.
The house where I grew up was home to a cornucopia of books on architecture, ballet, psychoanalysis, socialism, and innumerable other subjects, plus the classics of nineteenth- and twentieth-century European and American literature, the juvenilia and minor works of many great authors, the full 16-volume series of Oz books, all eight of the Little House series, other classics of children's literature, a 22-volume encyclopedia, and, yes, the King James Bible.
The sole Jewish books were Isaac Bashevis Singer's retellings of folk tales in editions for children (but none of the works for grownups that won him the Nobel), a tome about Abba Eban (a statesman, scholar and founder of the State of Israel) and a single copy of the Haggadah (the guide to the Passover ritual, or Seder, which commemorates the Exodus from Egypt). The latter is generally found in multiple copies in Jewish homes; at Passover, everyone present is handed a copy for the evening, so that all can follow along and participate. Haggadot (the plural of Haggadah) cannot and do not exist alone, yet here was one, all by itself—an anomaly. Clearly the last vestige of something, but what?
Quite a bit later, it occurred to me that there must be more books about Judaism, many more, and that it might in fact be possible to learn about this mysterious thing that had shaped me in ways I barely grasped. Surrounded by books my whole life, I should have known that there are books on every topic under the sun. But the realization came late, when I was nearly 30.
When I studied Yiddish—and language study necessarily encompasses study of culture—I learned that various habits and phrases that I had thought unique to my quirky family were in fact shards of the Ashkenazy (Eastern European Jewish) tradition and worldview. Discovering that I belonged to a larger culture was immensely comforting, and also a revelation.