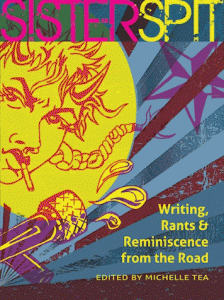 Both sentimental and side-splittingly funny, Sister Spit: Writings, Rants & Reminiscence from the Road (Sister Spit/City Lights), is a collection of stories coming out this month from Michelle Tea's legendary feminist performance art collective, which performs around the country with a featured group of talented feminist writers, beat-boxers and trapeze artists alike.
Told through a series of essays, drawings and diaries from various caravan contributors, Sister Spit is a sharp, sassy take on the tour experience. Reading it feels like taking a road trip with your best friends at their brightest, sans the backseat bickering and rest stop bathroom breaks. A quick read that's endlessly entertaining, it's an opportunity to eavesdrop on some of the best feminist writers and performers in the Bay Area.
ZYZZYVA spoke via email with Michelle Tea, the anthology's editor, about everything from Sister Spit to Sleigh Bells to sub-par lodgings.