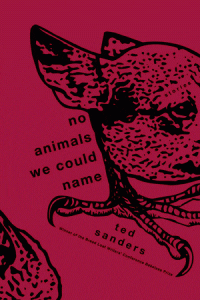 Ted Sanders writes the kind of sensitive, careful prose that makes it easy for the reader to forge connections with the most unconventional of characters—whether a flounder or a lizard—and to live for pages as someone (or something) you thought you could never identify with.
A collection of fourteen individual narratives, each forming its separate universe, No Animals We Could Name (Graywolf Press; 272 pages) is a beautiful expression of feeling in the form of prose. Putting a surrealist spin on the most realist situations, Sanders' hyper-observant prose and delicate descriptions are at once gentle and urging, prompting you to think about what really lays beneath the surface.
Always get the last word.
Updates and special offers straight to your inbox.
Keep up with the latest from ZYZZYVA by subscribing to our newsletter.
By subscribing, you agree to our Terms of Use and acknowledge that your information will be used as described in our Privacy Notice.
In the three-part story "Airbag," the main character's boyish fascination with a dwarf named Dorlene slowly unfolds amid a backdrop of self-indulgent schmoozing and stale party snacks. And in a story about a lion ragdoll, you see the twisted underside of a grown-up's imaginary friend gone wrong. That story most overtly expresses the profound sense of melancholy that echoes in all these stories.
At times, Sanders' "observe and let it unfold" approach can make the collection, which won the 2011 Bread Loaf Writers' Conference Bakeless Prize, seem overly vague and self-indulgently mysterious. But Sanders has a rare gift for articulating the things most of us can only mutely feel and vaguely process. Like a meticulous anthropologist, he adopts a sense of clinical detachment, observing the minute details that lead us to insights.
A writer who delicately explores every crevice of the human body, who scrutinizes every action from the outside in, Sanders explores the awkwardness, cynicism and uncertainty that so often surrounds our relationships. Through fresh prose that is emotional and dispassionate at once, he has done something great in No Animals We Could Name, creating a complex work that speaks to the oddity of modern life.