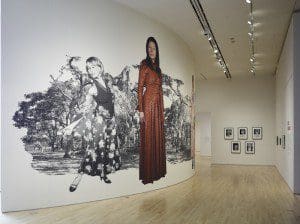 The long-standing queen of conceptual portraiture, Cindy Sherman is the art world's daring chameleon and its fiercest critic. Known for her bold pieces that often question identity, self-perception and established gender norms, the Museum of Modern Art in New York City has curated an incredibly thorough traveling retrospective of Sherman's work—more than 150 of her photographs, film projects, as well as a special series of film screenings that have inspired her creatively—that's on exhibition until October 8 at the San Francisco Museum of Modern Art.
Portraying herself as everything from a harlot to a housewife, Sherman embodies the narrow gender roles offered to American women and spits in the face of stereotyping. A fantastic visual parodist, her work is purposefully garish and brash, filled with images of the artist bearing caked-on foundation and wearing dollar store get-ups that reveal their own artifice, exposing the fraying hems and loose seams underlining the expectations of an "ideal" women.
Always get the last word.
Updates and special offers straight to your inbox.
Keep up with the latest from ZYZZYVA by subscribing to our newsletter.
By subscribing, you agree to our Terms of Use and acknowledge that your information will be used as described in our Privacy Notice.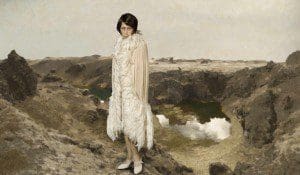 The exhibition at SFMOMA is done in Sherman's signature larger-than-life style, as viewers are greeted (and dwarfed) by a colossal mural featuring several different 18-foot figures of the artist, ranging from Sherman as a matronly gardener to her as a snooty showgirl. These pieces draw attention to how much her work has changed with evolving technology and the magic of image editing, as Sherman's medium has expanded from gelatin silver and chromogenic color prints to include digital images. Instead of the elaborate stage make-up and prostheses that made her famous, she has now turned to a pointed use of things like green screens and Photoshop to reflect a changing era of airbrushing and self-absorption.
Take her 2000-2002 portraits, which show how much American culture has changed since her iconic '70s "Untitled Film Stills" series. One can almost smell the Jack Daniels and desperation in these photographs meant to mimic posed mall portraiture. The pieces are an absolutely fascinating take on the image obsession that has invaded every facet of our lives. As her characters have become much more flamboyant over the past four decades, they still seem (scarily enough) more a product of our collective culture rather than Sherman's singular vision. She is the perfect artist to cast a critical eye upon the wannabe Kardashians of America, with her Arbusian ability to make us feel like we are prying voyeurs.
Despite some of Sherman's detractors who say her work is filled with nothing more than didactic pleas for women's rights and individuality, we still need work that speaks to feminine empowerment. That became painfully obvious even within the exhibition's own walls. One man could be overheard lamenting, "It's a shame you can't see how pretty she really is." It goes to show how much her work remains necessary.
"Cindy Sherman" retrospective runs till Oct. 8 at the San Francisco Museum of Modern Art, 151 Third St., San Francisco.