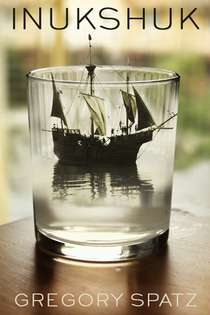 Despite the presence of rotting teeth, oozing sores and cannibalism, Gregory Spatz's novel Inukshuk (Bellevue Literary Press, 192 pages), which charts the struggles of an emotionally disjointed family, is much more haunting than horrific. Exploring the gradual breakdown of a family abandoned, it's a strange, hallucinatory tale of loss that still manages to keep itself grounded in the real world.
Uprooting his teenage son Thomas to the small Canadian oil town of Houndstitch after he is left by his wife, John Franklin must battle his own demons while also dealing with Thomas's concerning obsession with explorer Sir John Franklin's doomed Victorian-era Arctic expedition. Despite its slightly surreal story, there's a recognizable narrative about broken families and emotional grappling underneath it all. Told in a fresh, innovative manner, Inukshuk better communicates darkness and distress than any S.O.S. signal. There's a resounding undercurrent of resentment and anger throughout the narrative, which is eventually manifests in Thomas's hallucinations, John's romantic turmoil, and the marked absence of a distant second son and the ever-elusive Jane, his estranged wife.
Always get the last word.
Updates and special offers straight to your inbox.
Keep up with the latest from ZYZZYVA by subscribing to our newsletter.
By subscribing, you agree to our Terms of Use and acknowledge that your information will be used as described in our Privacy Notice.
The bullied son affected by a split marriage, Thomas is by far the narrative's most interesting and compelling character. A sensitive introvert dealing with the break-up of his family amid experiencing hallucinations and a healthy amount of typical teenage angst, he's an easily relatable misfit. Through Thomas, we experience some moments so touching, the reader almost feels the need to fill in for John. We can't help but oscillate between feeling empathy and agony for this family as we are absorbed by Spatz's cold, gripping tale.
And while it may seem bleak, Inukshuk (the title refers to a cairn) doesn't let go of the idea of adventure, inserting a kernel of hope into its story. This part of the novel, the retelling of the Franklin expedition, is indispensable to the whole narrative, underlying the torment and tension experienced by the contemporary characters and making the tale bewildering and beautiful,.
There's an incredible sadness imbuing everything Spatz writes here. Even happy moments are haunted: a tender, pivotal moment in Thomas's budding relationship with a young woman is filled with the ghosts of Franklin's expedition. But it's an appropriate way to proliferate the theme of loneliness pervading most of the novel. It gives a physical presence to the emptiness familiar to anyone who's ever felt absolutely alone.