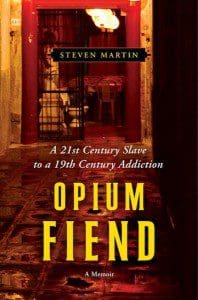 When you think of opium smoking, the sepia-steeped image of an exotic Shangri-La probably comes to mind.. However, opium consumption has long been a worldwide phenomenom, with smokers found among  the upper crust and the impoverished. In his memoir, Opium Fiend: A 21st Century Slave to a 19th Century Addiction (Villard; 416 pages), Steven Martin delves deep into the long-lost secret history of a drug that once captured the imaginations of everyone, from the haute couture to Hunter S. Thompson.
Martin—a freelance writer living in Southeast Asia whose curiosity about opium smoking eventually led to his becoming an addict to it—gives us a crash course on the long-lost art of opium smoking, from instructions on how to smoke (Martin spent most of his adult life collecting opium pipes and related paraphernalia) to providing a breezy historical analysis of the drug  that is neither overly embellished nor painstakingly pretentious. It's accessible and interesting without playing into the usual drug memoir tactic of detailing an incredible downward spiral of dependence leading to an eventual, magnificent train wreck.
Always get the last word.
Updates and special offers straight to your inbox.
Keep up with the latest from ZYZZYVA by subscribing to our newsletter.
By subscribing, you agree to our Terms of Use and acknowledge that your information will be used as described in our Privacy Notice.
What is most appealing about Martin's story is that it's enticingly candid and entirely plausible. Nothing seems made up or fake about his experiences. Also, his background in penning travel guides is evident as he transports the reader between turn-of-the-century opium dens and modern day Chinatown alleys and their tight corners. Martin is incredibly versed on his subject, relating knowledge on opiates that had been lost for decades before his painstaking, first-hand research.
Honest, direct, and full of carefully organized narratives that weave Martin's personal stories with those of others and with opium itself, Opium Fiend creates a strong connection to Martin and his expat addict friends. Maybe that's because the writing is unlike that of many other addiction memoirs, which tend to be pity parties rife with flamboyance and glamorous self-destruction. Martin's voice has a laid-back vibe, perhaps as a result of his Southern California upbringing. He wants to share his insights with the public at large, educating rather than discouraging them from learning more about what it means to smoke opium and the worlds built around that addiction.