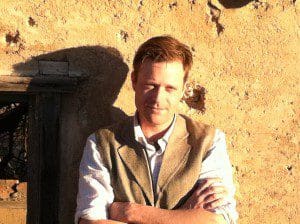 Almanac (96 pages; Princeton University Press) is the first full-length book of poems by Austin Smith, a Wallace Stegner Fellow in fiction at Stanford University. His poetry has been published in ZYZZYVA (Issue No. 83 and forthcoming in Issue No. 100), The New Yorker, The Sewanee Review and other places. Recently, his fiction has appeared in The Kenyon Review and Glimmer Train.
In his collection, which was selected by Paul Muldoon for the Princeton Series of Contemporary Poets, Smith explores Midwesten scenes—of bait shops, county fairs, abandoned silos and barns where cows are giving birth—in narrative poems which are as remarkable for the shining particularity of their imagery as for their compassion for the lives chronicled within. Almanac is infused with a nostalgic yearning for a world that is being destroyed, so that there is a dearness to these poems even when they're at their most darkly comic or surreal.
I met Smith in 2011 at the University of Virginia, where he was a classmate of mine in the MFA program studying poetry. Recently, I caught up with him via e-mail about the writing life, what it means to have "spent the first eighteen years of my life on the same three hundred acre farm in northwestern Illinois," and Almanac.
ZYZZYVA: Almanac opens with "The Silo," a poem that enacts in microcosm many of the themes of the collection, prime among them family, legacy and the steady destruction of the natural world and with it the fading of traditional practices. What do you think it is about poetry as a medium that lends itself to speaking about loss?
Austin Smith: I'm glad that those themes come through in "The Silo." They are certainly the themes that continue to obsess me.