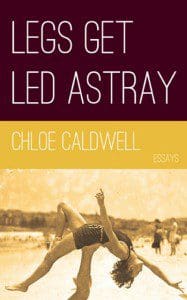 There's a matter-of-factness about Chloe Caldwell's sexually uninhibited, confessional essays, Legs Get Led Astray (Future Tense Books). "I am the type of person who will give anything to anyone I feel I could love, " Caldwell writes at one point.
Caldwell is young—her work reflects that—but that is not to say the writing is immaterial or inchoate. It's what I would call a greedy, ugly kind of "young," the kind that makes you wonder if we are most alive, in a monstrous way, when we're being hideous and awful. We spoke to her over Facebook about her frank and voracious book and how it explores horniness, a very large and very small thing that is as profound as it is shallow.
ZYZZYVA: In the essay "Yes to Carrots," you write about a lover who lived with his girlfriend, and how the exciting tension in the relationship was between you (side project) and the other woman (lover's girlfriend). The flips you did with that triangle were fresh. I loved how you constantly referred to her, shared with her and competed with her. There were signs of her everywhere and she took center stage. The lines I obsessed on were: "I was a guest on your toilet," "I sucked your boyfriend's cock religiously" and "Thoughts of him made me crazy. Thoughts of you made me calm." Can you say more about how you gave your hungers free flight in your essays?
Chloe Caldwell: The things I was totally possessed by (the other woman, the man I loved, sex, my mother) were the easier pieces to write. They were written because I couldn't not write them. "Yes To Carrots" flowed more naturally than any other essay in the book, because I was so worried about that situation all the time, and was writing it in my head constantly. I was journaling about the love triangle so often, taking notes on it. The sentences you mentioned were not me trying to be crude but just cutting to the truth, being realistic. It hurt to admit both of those things. Neither are things I was proud of. But for the sake of the essays, I had to push myself and write the uncomfortable things. For readers to relate to my writing on a deep level, I had to get a little uncomfortable. When I'm uncomfortable, I'm doing my job as a non-fiction writer.