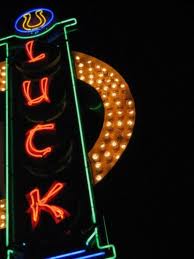 In Los Angeles, a person can't get anywhere in seven minutes. There's no Muni, BART, quaint Italian streetcar or the tried and true 22 Fillmore. Attending readings can be a chore that involves multiple freeway changes and nail biting, bumper-to-bumper traffic. It's difficult to lure people out for free drinks, a cheese plate, and a discounted literary journal here, where an iffy parking situation can make or break an event.
In L.A., I show up to readings because I value the time spent crafting a story, the twenty-four revisions and the manic rehearsals that go into a reading. I know the shoulder knots from hovering over a computer too long while buzzing in a caffeine trance. A few of us Antioch grads still regularly write together and rely on each other for input and support. We tap away on keyboards until our wrists are sore, our fingers numb and our necks tweaked. We pop Advil like Tic-Tacs and stare at computer screens until we're reduced to giggle fits.
I go to local readings to hear my friend's work because I believe that the next to impossible is still possible: Our literary community will hold strong in a place where celebrity culture reigns supreme.
While bookstores close across the country, writers in L.A. bring their prose to art galleries, bars, and cafés and read their poised work — stories bleeding wrath and heartache, violence and unrequited love. If it means driving an hour to cheer on and hear a friend's stories we do it.
On an uncharacteristically chilly Sunday night, at the Good Luck Bar in Los Feliz in early December, four writers unfazed by the ghost of bookstores-past arrived for a quarterly reading series called Rhapsodomancy.
Always get the last word.
Updates and special offers straight to your inbox.
Keep up with the latest from ZYZZYVA by subscribing to our newsletter.
By subscribing, you agree to our Terms of Use and acknowledge that your information will be used as described in our Privacy Notice.
Inside, the Good Luck Bar was cozy and welcoming. Wendy C. Ortiz, co-founder of the series, gave brief, generous introductions to all four writers, all Antioch alums. In a haunting way, the first poet, Lisa Cheby, read about memory and family secrets. Khadija Anderson and two others read her peppy piece about the Occupy movement. Melissa Chadburn, the first featured fiction reader, promised "something special" for her cohort from Antioch's MFA program. Two years post-graduation, she said, they still check in every Sunday about their writing feats and triumphs. To the crowd's delight, Chadburn threw down her book and performed by rote, and with absolute confidence and unwavering wit. Chadburn's Guernica piece, "Loose Morals," was an aching and humorous story of growing up in a group home, being accused of "attention seeking," and dealing with an impulse to break into cars and smoke. Jillian Lauren read a short excerpt from her recent novel, "Pretty," that held a restrained ache all its own, like a hand stretching out for a loveless God and getting smacked down.
After, I spoke with Wendy C. Ortiz about the local literary community and her reading series.
ZYZZYVA: How and why did you begin Rhapsodomancy? How do you run the series?
Wendy C. Ortiz: Andrea Quaid and I started the series seven years ago. We became friends while attending Antioch's MFA program and re-met at the poetry summer camp at Idyllwild. Our wish was to attend readings in places other than bookstores. We wanted drinks, too. At the time, we were both living in Los Feliz, and after checking out a couple of other potential venues, we approached the Good Luck Bar, who charged us for their first night in October 2004. But after that, they discovered that Rhapsodomancy attracted a decent crowd on an early Sunday night, so we were able to start booking regularly.
Andrea and I felt it was important to try to do a couple of things: keep some balance between prose and poetry at each reading, and also to include "emerging" writers. To that end, we continue to solicit the writers we know (though AQ is in the Bay Area now the last several years, she refers writers to me), and I keep submission info on the website for people to find. Ideally, interested writers would come out to a reading, look at the website and at the list of writers that have already read and at the upcoming list, then decide if their writing and our series would be a good fit, and then send us their best submission per the guidelines.
Z: How do you gain access to your dream writers?
WCO: It's no secret that having graduated from an MFA program, then working as the same program's coordinator for a few years has helped me network with all kinds of writers I might not have had access to. To show my gratitude, the series has donated money in the past to the Eloise Klein Healy Scholarship Fund at Antioch's MFA program. (On that note, you will find that on the website there's a list of all the places Rhapsodomancy has donated door money to — a situation that is shifting because we are now focused on trying to pay writers who travel more than 50 miles to read at the series).
One of our first guests was Chris Abani. We also wanted to begin a tradition of having Eloise Klein Healy read at every anniversary (she's read at most of the last seven). We asked ourselves about future readings, "Who we would just love, love, love to have read at our series?" And then we'd ask. And when I say "we" here, I mean, me, and you, and the audience, because I've been the sole curator for the last few years. To name a few dream writers who've appeared: Amy Gerstler, Eileen Myles, Brad Kessler, Jenny Factor and Martha Ronk, Felicia Luna Lemus, Maggie Nelson, Sarah Manguso, Sarah Shun-Lien Bynum, and Lidia Yuknavitch.
Z: What is the origin of that name?
WCO: It means divination by means of verses. Rhapsodomancy is an ancient form of divination performed by choosing through some method a specific passage or poem from which to ascertain information. In other words: Got a question? Open a book of poetry and find the answer.
Z: It sounds like The Good Luck Bar provided a treasure chest for a literary community in L.A. Do you feel you've achieved that with Rhapsodomancy?
WCO: The series has been super fortunate that word has gotten around and writers from around the country now contact us to read in it. This feels like an achievement of sorts to me.