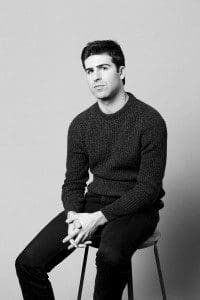 It's hard not to see Andrew Ridker's acerbic, cerebral first novel, The Altruists (319 pages; Viking)—which has attracted attention from NPR and The Times, among others—as an answer to the question of how to think about, let alone write about, a major strain of American life in 2019. The plot centers around a family at once archetypal and painfully real: Arthur, a pedantic, regret-filled professor who finds tenure elusive; his psychotherapist wife, Francine, whose premature death from breast cancer was worsened by Arthur's cheating on her in the terminal stages of her illness; their daughter, Maggie, a sanctimonious, kleptomaniac tutor; and their son, Ethan, an isolated gay man who squanders his inheritance on luxurious distractions. Years after Francine's death, Arthur invites his estranged children back to the family home in St. Louis, a gambit driven less by his desire for reconciliation than by the threat of foreclosure on the house that he hopes will function as a haven for him and his lover—an outcome he might avoid if only Maggie and Ethan would put their inheritances toward his cause.
More than a family saga, The Altruists is a story of grief contaminated by manipulation, of spiritual fulfillment and moral aspiration constrained by the material world, of the fire of idealism smothered by the wet blanket of pragmatism. It's a novel, in other words, rooted in the philosophical issues that have come to define the American left in the second decade of the second millennium. Arthur's tortured, high-strung demeanor has its origins in a failed humanitarian project that, rather than improving a nation's quality of life, caused some its citizens to die. Maggie, at once his foil and carbon copy, is similarly, if less consciously, frustrated: her acute moral intuitions roam in search of the sophistication needed to contextualize them and the fortitude needed to put them into practice. The Altruists looks long and hard at the aftermath of loss, just as it looks long and hard at class relations, financial anxiety, and the tensions of globalism, cosmopolitanism, and loneliness. Despite the leadenness of these topics—or maybe because of it—it's very, very funny. It marks the beginning of what promises to be a rich career.
We met in Ridker's living room in Iowa City, where he attends the Iowa Writers' Workshop, about a week after The Altruists was released. Outside, months of snow had just begun to melt.
ZYZZYVA: Firstly, I should just say that I loved this novel. I thought, the whole time, that it reminded me of everything I like about Gary Shteyngart and writers in that vein. The touches of realistic absurdity here and there—a world where there's a dating app designed to match people based on their trauma, stuff like that. It's too real.
Andrew Ridker: It's almost real. It'll be real in six months.
Z: And other things like the name of the Dedbroke Performing Arts Center—these on-the-nose but funny intrusions of the absurdity of the facts of things, made explicit parts of the contours of the characters and their world.
AR: "The absurdity of the facts of things" is a good way to put that, I think, because it speaks to this idea of realism versus satire. I think the novel is satirical, but it's not a satire. If you carefully select enough true details, you get an absurd picture, but it's not one that's been falsified or even exaggerated.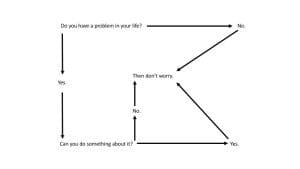 Z: I wanted to ask you about the flow charts, equations, and logical diagrams that illustrate snapshots of the characters' thinking. They're funny—and I think effective, insofar as they reveal new things about the psychological states of the characters. How did you figure out how to make that work?
AR: It's like this Rashomon thing. If six people watch someone slip on the ice, everyone's going to remember a different aspect of that event. One very empathetic, caring person might say, "Oh, I immediately felt so bad for that person and hoped they were OK." A more bitter, cynical person might snicker under their breath and say, "He was wearing AirPods, he got what was coming to him." Everyone's going to notice something different. I think the things I notice are the funny details that live at the intersection between intention and reality. One of the flow charts in the novel, for instance—that's a flow chart on the refrigerator in my childhood home. It's basically a roadmap to calming down during an anxiety attack. It's well-intentioned but absurd. Of all the ridiculous things pasted up on my childhood fridge, that's the one that stuck out, you know?