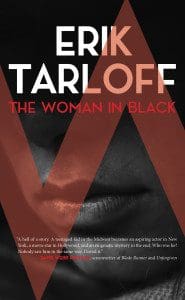 Berkeley novelist Erik Tarloff is a polymath. Growing up in Los Angeles, he was steeped in the motion picture industry (his father, Frank Tarloff, was a screenwriter), but he has also been deeply involved in politics, including stints as a speechwriter for Bill and Hillary Clinton and former Labor Secretary Robert Reich, among others. He has satirized the Washington political scene in his acclaimed 1998 novel, Face-Time, about a speech-writer whose girlfriend is sleeping with the President, and taken a fictional look at the complicated political and personal dynamics of '60s Berkeley in All Our Yesterdays. He is also the author of three well-received plays.
His new novel, The Woman in Black (Rare Bird Books; 275 pages), chronicles the rise and fall of Chance Hardwick, a young actor who blazes across the Hollywood scene only to mysteriously disappear, as told through the eyes of those who knew him–or who thought they did. Tarloff spoke with us about his book and his background.
ZYZZYVA: Woman in Black was forty years in the making. How did you come to the subject, and how much of it was influenced by your Hollywood upbringing? Did you meet any Brando/James Dean-types growing up as the son of a blacklisted screenwriter?
ERIK TARLOFF: I don't know about Brando/Dean types (never met either of those), but Sidney Poitier was a good friend of my parents, as was Farley Granger. Larry Parks and his wife, Betty Garret, had been very close until he cooperated with HUAC—that ended the friendship abruptly—but I wasn't sentient yet, so it's lost in the mists of pre-history. Ditto Lloyd Bridges.
It's always hard to say by what route an idea first arrives, although I do recall being intrigued by a series of short documentaries produced in the '80s about screen actors who came to prominence in the '50s. More, I think, from those little films' evocation of the period and the place—I first came to consciousness in '50s Hollywood—than from any notion of show biz glamour. Having grown up in a show biz family, my sense of the industry's glamour was rather attenuated all along, but those documentaries did start me thinking about the novel's central character and the world he inhabited.
Z: The novel seemed to be in some ways about the nature of celebrity – how we deal with fame, and use it to fill in vacuums in our own life. Even your subject, Chance Hardwick, seems to be, through the odd circumstances of his life—perhaps chance—to be an empty vessel, whose motives, nature are not known, even to himself. Is this a peculiarly American phenomenon?
ET: It could be that Americans, lacking a feudal history (with the obvious and appalling exception of slavery), may have a less rooted sense of identity than their European counterparts. But my starting point had more to do with the protean nature of the art of acting, the fact that by its very nature it requires its practitioners to assume and shuck off a vast range of identities. The way this might hollow out an actor's sense of an authentic self struck me as a phenomenon worthy of a serious novel. It seemed—no presumption intended, word of honor—almost Dostoyevskian in its implications.
Let me add, parenthetically, that the popularity of writers like Rona Barrett, Jackie Collins, Jacqueline Susann, and Gwen Davis have given the concept of "the Hollywood novel" a certain specific coloration that I think can be misleading. Norman Mailer, Budd Schulberg, Joan Didion, F. Scott Fitzgerald, and, of course, Nathaniel West, have shown that novels set in the movie business can have serious literary ambitions. I'd hate to have The Woman in Black relegated to the wrong heap.