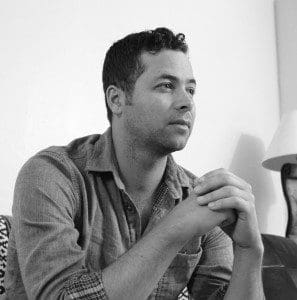 Emil DeAndreis's memoir, Hard to Grip (310 pages; Schaffner Press), is delivered in five stages, which is fitting, because in many ways this book of baseball and chronic illness is a grief memoir. DeAndreis begins jubilantly with his story of a promising high school career, becomes absurdist when he arrives at the University of Hawaii-Hilo, and then takes a sharp, dark turn as he is confronted with an unlikely diagnosis: rheumatoid arthritis. DeAndreis, 23 and preparing to pitch professionally in Belgium, must reckon with the end of his career because of a disease that most commonly affects middle-aged women. The writer, who is now a College of San Mateo professor as well as the author of a novel, must break down and rebuild his value system—he can no longer find his self-worth in toughness or physical strength; it hurts to even make a smoothie at Jamba Juice. The second half of Hard to Grip is about denial, anger, and eventual acceptance as DeAndreis mourns the loss of the game that defined his life.
I met DeAndreis when he was 17, and I was 14—a freshman at the same high school of which he was the star baseball player. San Francisco's public school league is far from elite, and DeAndreis accurately portrays himself as a big fish in a small pond. But at 14, that pond was an ocean for me. DeAndreis, like many other ex-players, seemed destined for greatness—and then, like almost every other player, returned home. I understood, vaguely, that his arm had failed him. I never knew the failing was a chronic illness that altered his life far beyond sports.
Though DeAndreis's career was unexpectedly taken from him so early, the fact is that every athlete faces the moment he or she can no longer play. DeAndreis writes at one point about a conversation he has with the players he coaches today. They ask him what it's like to not play baseball anymore. He tells them "it's like a disease you learn to live with." They understand, as does the reader, that everyone eventually loses the game.
ZYZZYVA spoke with DeAndreis about the way chronic illness pushed him from the pitcher's mound to the classroom and the world of writing.
ZYZZYVA: I know you started to work on Hard to Grip right when you were diagnosed with rheumatoid arthritis. A lot of the book is about accepting this nasty twist of fate, but what was it like to write about the experience right as it was happening?
Emil DeAndreis: Writing after the diagnosis was all I could do—I just lied to everyone about the disease at the time. I was not honest about it, because I didn't want the sympathy. As a 23-year-old, that was the last thing I wanted. You are now weaker. You are helpless. You are harmless. You are all these things. Now it's been so long that I don't even care. But finishing the book was that closure.
The narrative arc of this book is the narrative arc I experienced. I was writing this since 2011 when I was 24 and when I turned 30 I was still writing the book. In the course of a life, it's a small window of time. But so much change happens for anyone in that time.