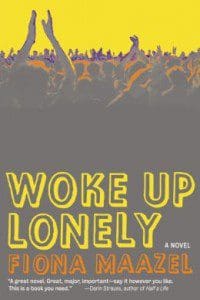 Woke Up Lonely (Graywolf Press, 336 pages), the new novel from author Fiona Maazel (Last Last Chance), is an imaginative thriller about a cult leader and the ex-wife in charge of spying on him. By balancing humorous adventures with an indictment of our modern world, in which solitude reigns despite all the new methods of communication, Maazel delivers a wild read teeming with emotion.
Thurlow Dan is the founder of the Helix, a cult based on the principle that lonely people need someone with whom they can share their feelings. At the start of the novel, the Helix has grown to almost 160,000 lonely members. But once they are banded together, the group's ideology starts to grow. Discontent over the 2000 elections and the war in Iraq have sparked rumors of an uprising among Helix members. Empowered by a cash influx from the North Korean government, revolution seems imminent.
Always get the last word.
Updates and special offers straight to your inbox.
Keep up with the latest from ZYZZYVA by subscribing to our newsletter.
By subscribing, you agree to our Terms of Use and acknowledge that your information will be used as described in our Privacy Notice.
Thurlow, however, is simply a lonely man caught in the middle of the mayhem. He started the Helix to deal with his emotions after the frequent arrivals and departures of Esme, his only love. Thurlow has been trying to track down Esme since she bolted with the couple's newborn daughter nine years ago. In the book's opening pages, Thurlow spots them from a bus, but unable to persuade Esme to come back to him, he retreats to the Helix compound in Cincinnati.
Esme, it turns out, is a spy for the Department of Defense. Tasked with bringing down Thurlow and the Helix, she's prepared to double-cross the government to keep him safe. Though she can't communicate her feelings to her ex-husband, she realizes that "They had been happy once. Since then it had been x days, months, years, and she still missed him with a degree of agony that would have sent most people running back to him a long time ago." Esme decides to send four bumbling surveillance lackeys to the Cincinnati house with hopes that they fail.
Maazel dips into the point of view of each of these "secret agents," demonstrating how, in an age when technology can connect everyone to anyone, people are most often lonely inside their own homes. For example, Bruce, an aspiring documentarian and gambling addict, feels his pregnant wife slipping away from him. And Anne-Janet watches her mother die in a hospital as she tries to suppress memories of childhood molestation. While Thurlow and Esme drive the madcap narrative, the supporting cast of misfit agents manifest realistically Maazel's theme. The splintering of a loving relationship is what started the Helix, but as we see the relationships of the four agents also fall apart, it becomes apparent that the affliction that fueled Thurlow from the beginning is widespread.
As it romps through the households of Washington, D.C., the passages of an underground city beneath Cincinnati, and the streets of Pyongyang, Woke Up Lonely shows how one man started a movement he couldn't control. In the aftermath of a government attempt on Thurlow's life, one congressman reflects, "Thurlow Dan was probably a nut, but couldn't a nut still be spokesman for that anguished and desolate feeling you had every morning just for waking up alive?" That desolate feeling grips Maazel's characters and elevates her novel from a crazy spy adventure to a literary work that reflects upon the inherent loneliness of an age in which loneliness isn't supposed to exist.