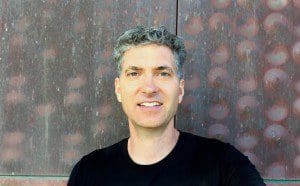 In 2011, I was living in Chapel Hill, North Carolina, where I spent two years as the Kenan Visiting Writer shortly after the release of my first book, a story collection. One of these stories, "Bed Death," appeared in the PEN/O.Henry Prize Stories, and it was this publication that led to my meeting Matthew Lansburgh. He sent me an email after reading it, and we struck up a friendship. In 2012, I moved back to San Francisco, and during a quick trip to New York in 2015, I finally met Matthew; we spent two days together, during which time he served as my "date" for a literary event.
Later that month, he visited San Francisco, where he met Anne, my wife, who said that talking to him felt like talking to a brother. This sort of easy familiarity often exists between gays and lesbians, but we had numerous other things in common as well: all three of us are writers, of both stories and novels; we all write work that incorporates LGBTQ characters and themes without targeting a primarily gay audience; Matthew grew up in California, where we now live, and he lives in New York, where Anne grew up; his mother is from Germany, Anne's from Vienna, and this informs their work, albeit in quite different ways. One of Matthew's ongoing preoccupations in his work is the relationship between his main character, Stewart, a gay man who has moved from California to New York, and Heike, his German-born, overbearing mother. Outside Is the Ocean (192 pages; University of Iowa Press), which received the Iowa Short Fiction Award, is a collection of linked stories with Stewart and Heike at its heart. It is funny and heartbreaking and, as Publishers Weekly noted, it "succeed[s] as a nuanced character study and a resonant commentary on the challenges of romantic and familial love." I read it in its entirety in a matter of days in manuscript form, and when the book landed in our mailbox, Anne devoured it just as quickly. Though Anne and I have similar aesthetics, we do not always respond with equal passion to books, but in Matthew's case, we did, even when we discussed the book in private, which is, after all, what really counts.
Anne Raeff: When I was reading Outside Is the Ocean I was often overwhelmed by the sadness and desperation of the characters, but I never wanted to run away. I wanted to be overwhelmed by their desperation. I wanted to experience their weaknesses, their inability to connect, their pettiness, their humanity. Heike is, perhaps, one of the most human characters of modern literature. She wants so desperately to be loved, yet she does not know how to love. She is kind to animals and to people who are even more lost and isolated than she is, but she is cruel to those who are closest to her, who know her most intimately, who know her weaknesses. Perhaps, although she is an immigrant, a woman who came of age in Germany during World War II, she is the archetypal American—full of hope and ideals, yet, ultimately, so alone.
Lori and I interviewed Matthew about his book via email and Google Docs.
ZYZZYVA (Lori Ostlund): Let's start the discussion with short stories. All three of us love short stories. We read them. We write them. You won the Iowa Short Fiction Award for this book. Anne and I have both received the Flannery O'Connor Award for Short Fiction (FOC). I once served as a screening judge for the FOC, so I know that it receives around 450 story collections a year for its annual contest. Contests (Drue Heinz, AWP Grace Paley Award, Sarabande's Mary McCarthy Prize in Short Fiction, Prairie Schooner Book Prize, BOA Short Fiction Prize) remain an important route to publication for story writers. Can you begin by describing the moment when you learned that you had won the award?
Matthew Lansburgh: I remember the moment vividly! I was walking toward my apartment on 28th Street in Manhattan. I was on the north side of the sidewalk, heading toward Sixth Avenue when I received an email from James McCoy, the editor of the University of Iowa Press, asking me to call him. At first, I had no idea who he was or what the email might be about. At the time, I was sending out stories constantly, and I wondered whether it was someone from The Iowa Review with a question about a story I'd submitted. I'd sent Outside Is the Ocean to the Iowa Short Fiction Award about five months earlier and hadn't spent much time thinking about it in the interim. (I've always believed that the best way to maintain one's sanity after sending something out to a journal or a contest is to forget about it and keep busy with other projects.)