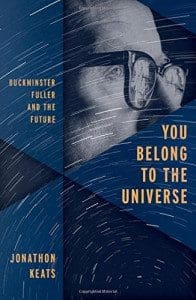 This Thursday at 7 p.m., author (and ZYZZYVA contributor) Jonathon Keats will be at City Lights to discuss his newest book, You Belong to the Universe: Buckminster Fuller and the Future (Oxford University Press). Called by Douglas Coupland a "wonderfully written and highly necessary book about one of the 20th century's most enigmatic outliers," the book takes Fuller's life and personal myth as a basis for applying his world-changing ideas in the present.
The following is an excerpt from Keats's book.
Late one evening in the winter of 1927, Buckminster Fuller set out to kill himself in frigid Lake Michigan. At thirty-two years old, he was a failure. He had neither job prospects nor savings, and his wife had just given birth to a daughter. A life insurance policy, bought while he was in the Navy, was all that he had to support his family.
So Fuller walked down to a deserted stretch of shoreline on the North Side of Chicago. He looked out over the churning water and calculated how long he'd need to swim before succumbing to hypothermia. But as he prepared to jump, he felt a strange resistance, as if he were being lifted, and he heard a stern voice inside his head: "You do not have the right to eliminate yourself. You do not belong to you. You belong to the universe." Then the voice confided that his life had a purpose, which could be fulfilled only by sharing his mind with the world, and that his family would always be provided for, as long as he submitted to his calling.