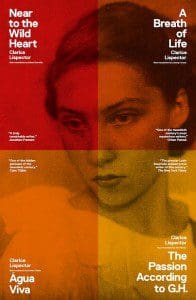 In his preface to Clarice Lispector's A Breath of Life (Pulsations), editor Benjamin Moser calls the four new translations from New Directions of Lispector's novels—including Água Viva, Near to the Wild Heart, and The Passion According to G.H.—"the most important project of translation into English of a Latin American author since the complete works of Jorge Luis Borges were published a decade ago."
This is hardly a disinterested opinion: Moser himself kicked off the retranslations of Lispector's work with The Hour of the Star (New Directions), published late last year. He also published a biography of Lispector in 2009, Why This World (Oxford University Press). But as someone who shares his esteem for her writing, I understand Moser's evangelical ardor. I also agree with his assessment. Three of the titles gathered here are the most vaunted novels of Lispector's literary career. The fourth, A Breath of Life, is Lispector's last novel, published a year after her death from ovarian cancer at age 56. Her masterpiece is undoubtedly among them, although critics will never agree about which one of these it is.
The aforementioned preface to A Breath of Life is in fact an epistolary exchange between Moser and Spanish film director Pedro Almodóvar, whom he solicits to write the novel's opening remarks after being struck by similarities between Almodóvar's The Skin I Live In and Lispector's final novel. Their correspondence is published in lieu of a preface, which the director declines to write. This is not because Almodóvar dislikes the text. On the contrary, he explains that the book interested him too much.