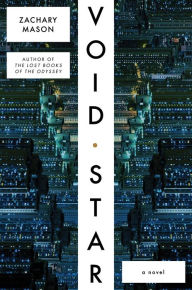 The crux of speculative fiction is not always found in inventing new worlds but in skewing our own. Zachary Mason's Void Star (385 pages; Farrar, Straus, and Giroux) does just that, chronicling the struggle of its misfit characters as they fight to survive on an Earth in which the oceans have risen and threaten to submerge the majority of the planet's remaining landmass. As affluent technocrats revel in their riches atop skyscrapers, the poorest of society are corralled into filthy favelas below them. Nowhere is this stark divide epitomized better than Mason's meticulously rendered version of San Francisco, a lurid cityscape where wealthy citizens augment themselves with neural implants and autonomous government drones patrol the Bay's smog-strangled skyline. Into this world, Mason introduces us to the fraught lives of a trio of characters, each facing separate adversities, but each eventually colliding to reveal a city of supreme science, surprising surrealism, and lurking menace.
As a "computational translator" Irina employs her cerebral implant to convert computer code into words. Her rare ability allows her to know the "temperature" moment to moment, to hear "all the chatter of all the surveillance drones" or "see through their cameras" anywhere within the city. Her implant enables her to store memories at will, selectively saving sensory details, even if they're only flickers of images, sights, and sounds. An intermediary between artificial intelligences and her wealthy but frequently less than human clients, Irina floats between states of liminal thought and interrelating with people, leaving her hollow. We inhabit her haze until, like all the characters in Void Star, she is awakened to a sinister plot after witnessing something on a computer screen she shouldn't have.
Always get the last word.
Updates and special offers straight to your inbox.
Keep up with the latest from ZYZZYVA by subscribing to our newsletter.
By subscribing, you agree to our Terms of Use and acknowledge that your information will be used as described in our Privacy Notice.
Kern, on the other hand, has little time to contemplate his Spartan existence as he grapples with the sludge of the slums. A thief who has honed his body and trained in martial arts, Kern stays connected to the world through his laptop, his only possession he hasn't pawned or stolen. When he robs the wrong target, Kern's story takes us through the unrelenting hell that is the lives of the poor as his independence, his strength—what little he had left—is taken from him. The novel's third narrative follows the life of Thales, a refugee and the sole surviving member of a Brazilian political dynasty. Thales suffers an unexpected blow when he's captured by an unknown force and thrust into an inextricable matrix of corporate conspiracy and familial dread.
Void Star asks the reader to contemplate several questions. As Irina parses through code and electric symbols, we digitally dive into her and all of the characters' consciousness, forcing us to consider which experiences matter, how our memories and the details we observe make us whole. Are we curating a facade of a personality through the artifice of civilization? Do human relationships matter when artificial intelligences are slowly supplying the same basic interactions? And how do we rectify unparalleled technological prosperity with global disparity?
Speculative fiction has long wrestled with these ethical quandaries, but rarely has it done so with the power of language and prescience found in Void Star. Mason's prose is prodigious in scope and exultant in its decadent imagery of a pseudo-dystopian San Francisco. A combination of Gibsonian grunge and the existential intrigue of Philip K. Dick, Void Star explores the artifice of memory and the limits of man's comprehension, all with a dash of Bay Area bedlam.