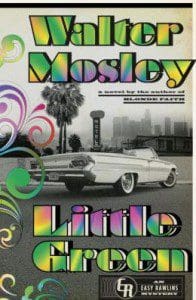 Little Green (Doubleday, 304 Pages), the new crime thriller from Walter Mosley, is the eleventh installment in the Easy Rawlins series, which kicked off with 1990's Devil in a Blue Dress. Easy is now older and edgier, navigating the reader through a layered mystery set against a racially tense Los Angeles in 1967.
The story opens with Easy recovering from a near-fatal car accident. Enlivened with a voodoo concoction called Gator's Blood, the private eye gets right back to work, helping his stalwart friend Mouse find Evander "Little Green" Noon, a young man who went missing after dropping acid on Sunset Strip. Finding Evander is complicated by an incident during his trip that somehow ended in bloody burlap sacks filled with money and several gangs in the city looking for him. Easy is tasked with finding and protecting Evander, hiding the money, and unraveling the story of what exactly happened.
Always get the last word.
Updates and special offers straight to your inbox.
Keep up with the latest from ZYZZYVA by subscribing to our newsletter.
By subscribing, you agree to our Terms of Use and acknowledge that your information will be used as described in our Privacy Notice.
Mosley, an acclaimed veteran of the mystery, layers intrigue through the book, particularly displaying his mastery in pacing. Little Green is not a straight whodunit but a winding journey, one filled with new obstacles, courtesy of side jobs involving old friends from the Rawlins series. Events don't occur too quickly, yet there is never a lull. Even when the action peaks, new problems arise, propelling the story toward its unpredictable end.
Those already familiar with the Rawlins series will appreciate how Mosley weaves past history into the current lives of his characters in Little Green, showing how previous encounters shape present decision-making. Yet Easy's strong narrative voice—at once cynical, yet capable of a developing world view and open to weighing the changing environment around him— seamlessly fills in the gaps for any reader meeting Easy or his homicidal sidekick Mouse for the first time. (For example, upon his initial meeting with Evander's mom, Easy explains his history as a private eye: "I took out my wallet and showed her the license I'd procured after helping the police with a crime that they would have never solved on their own." The line is a nod to Devil in a Blue Dress, but doesn't require knowledge of the book to inform the story.)
As he works the streets of a richly depicted Los Angeles in a Barracuda, Easy sees a city that hasn't repaired itself following the 1965 Watts Riots. Driving through L.A., Easy notes how his "community had suffered decimation as I had. It was trying to come back, but there was no promise that it would rise again either." At the same time, the Sunset Strip, which has been overrun with hippies consuming drugs and preaching free love, offers some hope. The white hippies there have been marginalized from society much like the non-whites in Los Angeles, and perhaps they do indeed provide a chance for peace.
Little Green is more than a new serial installment in genre fiction; it's a compelling exciting story examining racial tension in one of America's most diverse cities.