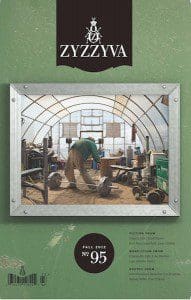 It looks like the Fall 2012 ZYZZYVA (No. 95) has some sort of magic working for it. Earlier this year, we were thrilled to learn that a story from that issue, Karl Taro Greenfeld's "Horned Men," would be included in the 2013 Best American Short Stories. And today, we received a call informing us that Dagoberto Gilb's nonfiction piece from the same issue, "A Little Bit of Fun Before He Died," will be included in the 2013 Best American Essays.
We offer our warmest congratulations to Dagoberto Gilb and Karl Taro Greenfeld. And if you don't have the Fall 2012 issue already and want to know what all the fuss is about, you can order a copy here. (Just scroll a little bit down on the page.)
Always get the last word.
Updates and special offers straight to your inbox.
Keep up with the latest from ZYZZYVA by subscribing to our newsletter.
By subscribing, you agree to our Terms of Use and acknowledge that your information will be used as described in our Privacy Notice.
Update: A letter arrived from the Pushcart folks informing us that W.S. Di Piero's poem from the Spring 2012 issue (No. 94), "There Were Such Things," will be published in the Pushcart Prize 2014 anthology. (Di Piero has had an essay appear before in the Pushcarts. This would be his first poem to be honored by the anthology.) Our congratulations to W.S. Di Piero.