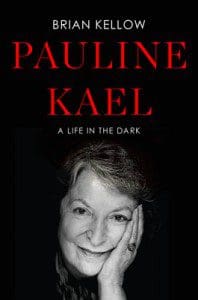 Let the record be clear: I am not now, nor have I ever been, a "Paulette," the derisive term used for the camp followers of the late, great Pauline Kael, who slavishly faxed her advance copies of their reviews, hoping for her approval, encouragement and career advancement.
But to be equally clear, I am a huge admirer of Kael's body of work, starting with "I Lost It At The Movies,'' her enormously influential early collection of pieces, many of them from her feisty days as a caustic commentator on KPFA, portions of which are excerpted in the massive, somewhat daunting new collection, "The Age Of Movies: Selected Writings of Pauline Kael'' (Library of America; 750 pages), edited by Sanford Schwartz.
In a little known bit of West Coast literary history, she got her gig at the station,  as Brian Kellow recounts, in his measured – some would say too measured – new biography, "Pauline Kael: A Life In The Dark" (Viking; 432 pages), after the poet Weldon Kees took a Hart Crane-like dive off the Golden Gate Bridge.
Pauline took over the show, joining other KPFA personages like Phil Elwood, the longtime jazz critic for the San Francisco Examiner, and a star was born.
Kael's own voice was inimitably jazzy, with long extemporaneous solos about the foolishness of mainstream critics, prominently including the New York Times' militantly middle-brow Bosley Crowther, in the face of the exciting New Wave of European and American cinema that was dawning.
While most celebrated, and scorned, for her ecstatic critical enthusiasm, Kael is in fine form taking apart the pretensions of a celebrated piece of "entertainment'' that was being presented as art by the well-intentioned arbiters of the time.
"Sex is the great leveler, taste the great divider,'' she writes, in a take-down of West Side Story,  that, typically, devolves into a description of movie-going as a dating game. "I have premonitions of the beginning of the end when a man who seems charming or at least remotely possible starts talking about movies. When he says, 'I saw a great picture a couple of years ago – I wonder what you thought of it? ' I start looking for the nearest exit. His great picture generally turns out to be He Who Must Die or something else that I detested – frequently a socially conscious problem picture of the Stanley Kramer variety.''
Always get the last word.
Updates and special offers straight to your inbox.
Keep up with the latest from ZYZZYVA by subscribing to our newsletter.
By subscribing, you agree to our Terms of Use and acknowledge that your information will be used as described in our Privacy Notice.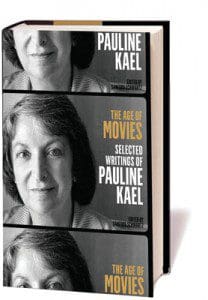 It's sex which preoccupies Kael as a critic and, ironically, the emphasis on it by this woman who lived later life in an almost monastic, albeit high-spirited state, that is still used as a battering ram, if the metaphor isn't too explicit, against her by those who still remain disturbed by her ardent advocacy of "Last Tango In Paris.''
You can take the girl out of Petaluma, where Kael was brought up by her father, who ran an ultimately unsuccessful chicken ranch, but you can't take the Petaluma out of the girl.
Pauline brought a raucous West Coast sensibility, including a heightened appreciation of the facts of life, to her criticism throughout her career, which included a lengthy, legendarily contentious stint at The New Yorker magazine.
Her bravura acts of advocacy – and the fact that, unlike most of the critics of the time, she actually knew how to write, as opposed to merely summarize plot points – set her apart from the crowd, and the nuggets still remain, as memorable for her casual incisiveness ("Sometimes, just on his own, Jeff Bridges is enough to make a picture worth seeing,'' she writes of the future star's appearance in the little-known stock car-racing gem, The Last American Hero) as for the polemical prowess she famously exercised in her paeans to Nashville, Bonnie and Clyde and Sam Peckinpah.
It was just that raucousness that put off the Eastern establishment she never quite joined, culminating in a celebrated takedown of her work by sometime New Yorker contributor Renata Adler, who termed it "jarringly, piece by piece, line by line, and without interruption, worthless.''
Kael, whose pen was notoriously dipped in aspic, chose not to reply, although she was reportedly wounded.
But it was the very excess Adler descried that was at the heart of her prose style, as Kellow acknowledges, describing her life as "a triumph of instinct over an astonishing intellect.''
Longtime New Yorker editor William Shawn did Kael no favors by insisting, at the outset, that she refrain from attacks on fellow critics in her writings for the magazine; despite the edict, she did provide raw entertainment in those long years in which it seemed to be sadly missing from the rest of the publication.
Detailing the long-ago fights, let alone the disputes among the followers of Kael and Andrew Sarris, respectively, is a fool's game, like reflecting the lines in the sands drawn between Trotskyites and quasi-Stalinists to an audience that no longer cares.
Trust the tale, not the teller.
Kael was savvier about the psychological roots of her aesthetic enthusiasms than she may have chosen to let on.
In her early notice of Truffaut's masterpiece, Jules and Jim,  she writes, autobiographically, of Jeanne Moreau's operatic protagonist: "Catherine, in her way, compensates for the homage she demands. She has, despite her need to intrude and to dominate, the gift for life. She holds nothing in reserve; she lives out her desires; when she can't control the situation, she destroys it.''
It's beyond irony that the publication of the two new Kael books (coupled with "Lucking Out'' by James Wolcott, which purports to be a recollection of the '70s but devolves into yet another memoir of being caught up in Pauline's force field), is coupled with the latest round of attention to her long-time literary adversary, Joan Didion.
Both women had complex – and in Didion's case, tragic – relationships with their daughters.
Both were Californians, who seem to have never quite made peace with the gentrification required by their East Coast counterparts.
While Kael delighted in cackling (as her followers giggled) over Didion's perceived pretension, it's hard not to think she had some kind of reluctant respect for the journalistic chops her near-contemporary exhibited in her long slouch to Bethlehem.
One likes to think of them burying the hatchet, and "having a drink, like civilized people,'' as Wolcott recalls Kael's call to comradeship.
The center cannot hold –and Pauline Kael's attempts to bring the unruly passions that movies can offer us at their best into some kind of coherent, critical whole have been overtaken by our refracted Internet culture. It would be a shame if nagging resentment — and lingering Schadenfreude – kept us from celebrating a tough broad who did it her way.
Paul Wilner is a member of the National Book Critics Circle who studied English, at Lowell High School, with Pauline Kael's sister, Anne Wallach.