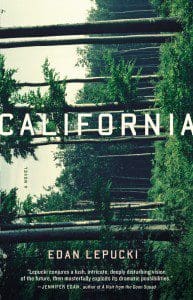 It can be argued that the post-apocalyptic science fiction novel was invented in California. Although there had been such end-of-days precursors as Mary Shelley's The Last Man or E.M. Forster's story "The Machine Stops" (and even the novel The Scarlet Plague by Oakland's own Jack London), it was Earth Abides, published in 1949 by University of California English professor George R. Stewart, that established many of the tropes associated with doomsday novels, ranging from Stephen King's The Stand to The Road by Cormac McCarthy.
Stewart's novel follows geography grad student Isherwood "Ish" Williams after he recovers from a snakebite-induced coma in the Sierra and returns to Berkeley, only to find the human population decimated by a plague. Over the course of the narrative, Ish embarks on a cross-country reconnaissance mission, returns to California, raises a family there, and observes the further, perhaps unstoppable, deterioration of civilization.
Consciously or otherwise, Edan Lepucki's first novel, California (Little, Brown; 394 pages), owes a debt to Stewart's West Coast apocalyptic masterpiece. Her characters, however, forsake the So Cal flatlands for the wilderness to the north, and their concerns for the future are as much domestic and existential as global and philosophical.