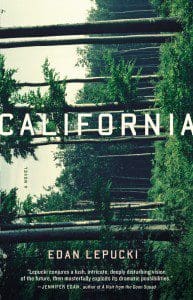 It can be argued that the post-apocalyptic science fiction novel was invented in California. Although there had been such end-of-days precursors as Mary Shelley's The Last Man or E.M. Forster's story "The Machine Stops" (and even the novel The Scarlet Plague by Oakland's own Jack London), it was Earth Abides, published in 1949 by University of California English professor George R. Stewart, that established many of the tropes associated with doomsday novels, ranging from Stephen King's The Stand to The Road by Cormac McCarthy.
Stewart's novel follows geography grad student Isherwood "Ish" Williams after he recovers from a snakebite-induced coma in the Sierra and returns to Berkeley, only to find the human population decimated by a plague. Over the course of the narrative, Ish embarks on a cross-country reconnaissance mission, returns to California, raises a family there, and observes the further, perhaps unstoppable, deterioration of civilization.
Consciously or otherwise, Edan Lepucki's first novel, California (Little, Brown; 394 pages), owes a debt to Stewart's West Coast apocalyptic masterpiece. Her characters, however, forsake the So Cal flatlands for the wilderness to the north, and their concerns for the future are as much domestic and existential as global and philosophical.
Always get the last word.
Updates and special offers straight to your inbox.
Keep up with the latest from ZYZZYVA by subscribing to our newsletter.
By subscribing, you agree to our Terms of Use and acknowledge that your information will be used as described in our Privacy Notice.
Set a few decades hence, after natural, economic, and political crises have worn civilized society down to the nub, California focuses on the struggles of Frida and Cal, a formerly middle-class, married couple in their thirties, who have fled the chaos of Los Angeles to seek isolated sanctuary. As the novel opens, they have found a small degree of safety and comfort, living in a solid, if rudimentary, house built by a family of four they had befriended.
When Frida begins to suspect an unplanned pregnancy, she and Cal must decide whether it would be be better to stay where they are or to search for further human contact elsewhere. After all, the former occupants of their residence apparently decided to commit suicide by ingesting poison, rather than face the future. How can Frida and Cal hope to raise and protect an infant without access to medical care, reliable food and water, or even the most basic household items?
A staff writer for The Millions and the author of the novella, If You're Not Yet Like Me, Lepucki puts a distinctively original spin on a sub-genre that has felt overexposed for nearly a decade now. For starters, hers seems to be a slow-motion apocalypse, the inevitable result of accumulated bad decisions and willful neglect, rather than the sudden arrival of Captain Trips, Lucifer's Hammer, or the walking dead.
More importantly, California distinguishes itself by focusing on what it might mean to be married at a time when the rest of the world has fallen apart. Frida and Cal clearly love each other, but they are also realistically flawed individuals, each trying to make the best of a horrendous set of circumstances, each choosing options that are clearly against their own interests. The chapters alternate between their viewpoints, and this structure gives the reader extra insight into how Cal and Frida view the altered world and exposes the white and darker lies they tell and the secrets they keep.
Where California slips a little is in its presentation of what Cal and Frida discover beyond the boundaries of their tiny redoubt. Their contact with other survivors opens the narrative up from its claustrophobic beginning, but some of the connections they find in the neighboring settlement may strike some readers as a little too neat.
Like Ben H. Winters' Last Policeman trilogy, which fuses the crime novel with a doomsday scenario, California honors the expectations of the post-apocalyptic novel while slyly subverting them. At its core, the book is a literary domestic drama, with the stakes not merely divorce and downward mobility but complete destitution and death.
Lepucki has the grace, wit, and sensitivity to make Frida and Cal's predicament and its resolution wrenching and unforgettable, without any false heroics. It's that emotional honesty that makes California stand so far out in a crowded field.