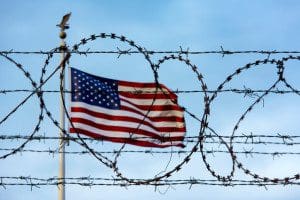 Three years ago, my essay "Shiftiness: The Border in Eight Cases" approached the border from eight different routes. The years since have only increased the urgency of dealing with the border in a humane and just way.
"The law constitutes a 'we' through an official story," scholar Priscilla Wald wrote in her 1994 book, Constituting Americans: Cultural Anxiety and Narrative Form. But: "An official story of 'a people' invariably lags behind the seismic demographic changes and corresponding untold stories that ultimately compel each revision."
These days, we're immersed in the conflict that churns beneath the changing text.
When Donald Trump issued his Muslim ban a week after his inauguration, protestors poured into airports around the country. Federal courts issued injunctions, the Trump administration twice revised the ban, and the Supreme Court let it go into effect while it heard the case. Later, the Trump administration began blocking people from seeking asylum at official border points and taking the children of those who do manage to cross. Lawyers filed lawsuits. Protests bloomed. On July 4, sparing no symbolism, seven people dropped an "Abolish ICE" banner from the base of the Statue of Liberty.
Now, in Trump v. Hawaii, the Supreme Court has rubber-stamped the Muslim ban. My printed copy of Chief Justice John Roberts' majority opinion is marked with angry notes. I was one of the people marching through SeaTac airport a year and a half ago, lifted by the "joy of disobedience," and I'm one of the people now who's spent mornings holding a handwritten sign in front of the Seattle ICE office.
In 2018, we know we're living in history. I imagine a person like me, sitting at a desk one hundred years from now in whatever United States emerges from this catastrophe, reading Trump v. Hawaii. This reader, comfortable but conscientious, peers at the decision as if through a telescope. Distance can make everything smaller, especially if there's no political and moral crisis bearing down on the reader to bring history to the fore as she sifts through the pages.
In August 2018, we are experiencing a genuine crisis—not just a crisis of intensified border-related brutality but also a crisis of sudden awareness and loss of meaning. Who are we? It's a double question: who's included, and what's the nature of those of us who are? The border touches both sides of this question. Donald Trump so luxuriates in his contempt for the lives connected to the border that many of us who previously could escape or ignore the border—not just as a place but as an instrument of power—can hide no longer; many don't want to anyway. Ignorance is complicity, and complicity ruins our souls. Continue reading →