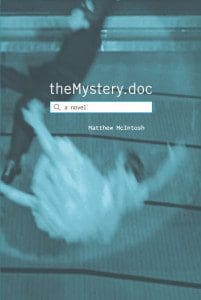 On page after page of Matthew McIntosh's theMystery.doc (Grove Press), redactions black out key words, crucial questions, and even whole sections of text. I don't know how far I had gotten through the 1,660-page novel before I stopped expecting the eventual, climactic unveiling of the hidden words, the code-break that would deliver me from all my head-scratching. Surely, it was hundreds of pages after the flip-book sequence that begins on Page 73 with a voice shouting, ">HEY" (flip page) ">DO YOU THINK YOUR SAVIORS COMING BACK" (flip page) ">WHATS HE LOST DOWN HERE"—before I stopped looking for whatever it was that had been lost in those black blocks and began to focus, instead, on the strange constellations of voices and images arranged around the voids.
It can be difficult to recognize a work of real vision. At times McIntosh's book is profoundly un-fun to read. Without warning the text breaks apart into a cacophony of (seemingly) non-sequitur plot shards, screenshots from classic films, and blips of (seemingly) random dialogue separated by long stretches of emptiness or indecipherable symbols. An uncharitable reader could easily fill up all the black and blank space in this book with dismissals. But the author's formal trickery can't be written off as merely evasive, pretentious, or coy. Setting aside the reader's perfectly valid expectations of entertainment and pleasure, theMystery.doc is some sort of masterpiece—obscure or vulnerable by jagged turns, but in every moment energized by a self-assured sense of purpose: the novel knows, even if you are, for a long time, completely in the dark.
McIntosh employs a grand-scale version of the interlocking vignette structure that made his first book, Well, such an exciting and unique debut. Particular voices and narratives emerge, vanish, and recur over the span of several-hundred-page chapters. A photo sequence begun on page 325 returns on page 1,600. The story of a drowned couple is told and retold. The Twin Towers fall again and again. The novel accumulates meaning the way many mosaic-style works do: by the resonances (or dissonances) created between fragments, and—more mystically—by a kind of sustained déjà vu, which reminds us with echoes of familiar dialogue or repeated photos that no detail is irrelevant to the larger image being composed.