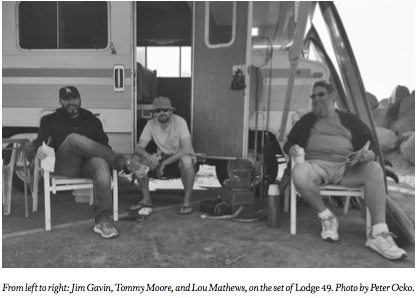 Jim Gavin's fiction has appeared in The New Yorker, The Paris Review, Zoetrope, Esquire, Slice, The Mississippi Review, and ZYZZYVA. Based in Los Angeles, he is also the creator of the critically-acclaimed television series Lodge 49, now in its second season. You can watch Lodge 49 on AMC every Monday night at 10pm. Issue 116 features a Q&A with Gavin, an excerpt from which appears below:
OSCAR VILLALON: As a prose writer, as somebody who conceives of narrative through the written word, how did you go about recalibrating your sense of telling a story for a visual medium?
JIM GAVIN: I have a dumb theory that "style"—as in the thing that defines a writer's voice and relationship to language—comes about through an entirely negative process. You figure out what you're bad at, and you avoid it whenever possible. The things I suck at include getting inside a character's head, describing thoughts and moods through metaphor, constructing anything that might resemble a plot…the list goes on. What's left for me is dialogue. That's where I feel comfortable, and until a character speaks I have no idea what I'm doing.
Any sustained piece of writing I've done has started with a line of dialogue; I'll hear a line that somehow defines the character entirely and I'll write toward that. Only that character would say that line in that moment in that way. Everything starts there and it must hold true for every character on the page.
Always get the last word.
Updates and special offers straight to your inbox.
Keep up with the latest from ZYZZYVA by subscribing to our newsletter.
By subscribing, you agree to our Terms of Use and acknowledge that your information will be used as described in our Privacy Notice.
Another big thing for me: I want to entertain. I have nothing profound or original to say about anything, but I think I can keep some tension on the page, make you invest in a character, make you laugh, and make you at least want to know what happens next. So my "style"—all the things I avoid doing—happens to translate well to TV. As a television writer, my ears are more important than my eyes. I have to hear the voice of the characters and the dialogue has to have a rhythm that's true to the character. Once that's in place, the script goes to the director and cinematographer, who use their eyes and brains to translate the story visually and geometrically: frames, camera moves, etc. I will sometimes write those things in, but on set my main job is to make sure the tone, in terms of sound and delivery, is clicking along.
Most important, of course, are the actors who have to capture all of it—sight and sound—in one fluid package. Our amazing cast makes it look easy, but it's an insanely difficult thing to do, and it has to be done under the pressure of the moment. Watching all of these elements come together is a special joy.
OV: To your point about dialogue, more than one writer has said how important it is that prose sounds "right" to the ear, in the same way, I think, that the words out of a character's mouth sound "right," too. I'm thinking here of Philip Roth's writing, especially the Zuckerman books, and how one critic called Roth one of the great "talkers" of fiction.
Do you find yourself calibrating dialogue differently now that you're familiar with how the show's actors have conceived of your characters?
JG: The whole first season was written before we cast, so our actors could absorb much of the world and their characters right from the beginning. The joy of working with great actors is that they always elevate lines and moments. There are gestures, pauses, little spins of emphasis that I could never conceive of when writing it. Writing the second season was much different because I did have our actor's voices in my head, and I could write toward that a little. Lodge 49 has a distinct tone and from the beginning all of our actors have been tuned into it and they amplify it beautifully.
OV: How would you describe that tone? To me it's something like what Geoff Dyer wrote in his book Broadsword to Danny Boy to describe Clint Eastwood in Where Eagles Dare: electric lethargy.
JG: That's not a bad description. I think much of the tone comes out of the fact that our characters are not aspirational. Dud's been described as a "slacker" when in fact he's someone who had a job and vocation that he liked for most of his adult life and it's been taken away from him. Our characters don't ask much from life and find pleasure in small mercies like a good donut.
You can read the interview with Jim Gavin in its entirety in Issue 116, now on sale.