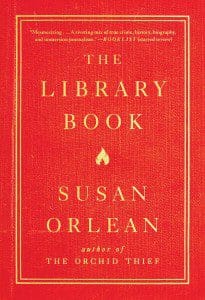 In 1986, a fire at the Los Angeles Central Library raged so fiercely, firefighters noted the strong potential for a flashover –– when a fire spreads rapidly across a gap due to extreme heat. "Flashover" is similar to the effect one experiences reading Susan Orlean's The Library Book (336 pages; Simon & Schuster). It's difficult to pull away from the story when her incisive research skills and masterful writing work in symbiosis: The Library Book is not just a sweeping narrative recounting the 1986 Los Angeles Central Library fire, but also an in-depth look at the personal, civic, and global impact a library can have.
Although Harry Peak has long been suspected as the arsonist behind the fire, the precise cause of the blaze remains a mystery to this day. Peak was originally from Santa Fe Springs, but moved to Los Angeles –– as most aspiring actors do –– after a stint in the Army at age eighteen. He never made it to the silver screen, but he did appear on the local news in 1987 when he was arrested on suspicion of arson. He was described by many as a compulsive liar, which is partially why Peak was never indicted. No one could ascertain if Peak was even at the library when the fire started because he continually fabricated and then contradicted one alibi after the other.
Always get the last word.
Updates and special offers straight to your inbox.
Keep up with the latest from ZYZZYVA by subscribing to our newsletter.
By subscribing, you agree to our Terms of Use and acknowledge that your information will be used as described in our Privacy Notice.
In addition to her investigation into Harry Peak, Orlean examines history to add context to why someone would want to burn down a library in the first place: "libraries are usually burned because they contain ideas one finds problematic," she notes. She harkens back to the Spanish Inquisition, wherein Spaniards created a community gathering around the act of burning books they deemed heretic, such as the Torah. With some trepidation, Orlean even burned a book herself in order to truly immerse herself in her research.
Orlean describes the personal significance of the library institution: for her, the library is a reminder of the trips she took with her mother, to whom she credits for instilling her love of literature. She saw that same parent-child bond mirrored in the present when she brought her son to the library because he –– to Orlean's surprise –– wanted to interview a librarian for a school assignment. She calls books our cultural DNA, "a code for who, as a society, we are, and what we know." A library is one of the safest and most open places in a community, and to burn it down would be tantamount to terrorism. For the Senegalese people, Orlean notes, saying "his or her library has burned" is a polite way to address someone's passing; she shares a cerebral yet heartwarming contemplation of the term:
Our minds and souls contain volumes made of our experiences and emotions; each individual's consciousness is a collection of memories we've cataloged and stored inside us, a private library of a life lived. It is something that no one else can entirely share, one that burns down and disappears when we die. But if you can take something from that internal collection and share it —with one person or with the larger world, on the page or in a story recited— it takes a life of its own.
Reading The Library Book is not unlike combing through the stacks of your local branch: it exposes many truths, and offers answers as well as questions. While the fire at the Los Angeles Central Library may be long forgotten –– even when it occurred, it was soon eclipsed in the headlines by the nuclear meltdown at Chernobyl the same week –– Orlean's genuine ardor for this peculiar and overlooked story is adroitly conveyed by her prose—the fuel igniting this literary page-turner.