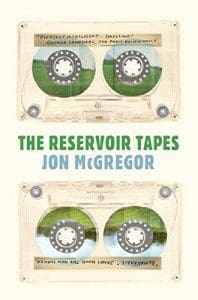 In his newest book, The Reservoir Tapes (167 pages; Catapult), British novelist Jon McGregor (long-listed for the Man Booker Prize three times) returns to the complex world of his acclaimed 2017 novel, Reservoir 13, which was set in a seemingly sleepy English village. McGregor further explores through this story collection the intricate lives within that community as they begin the agonizing search for Becky Shaw, a local girl gone missing. Told from the same fifteen distinct perspectives of Reservoir 13, McGregor's stories give readers a candid view of the relationships and transgressions of these private townspeople.
The Reservoir Tapes began as a side project to Reservoir 13, appearing first on BBC Radio 4 as fifteen separate episodes. The "perspectives," as they're called, addressed the months leading up to Becky's disappearance (in Reservoir 13, McGregor focused on the passage of time following that), exploring the tensions and fissures long present in the community, and offering readers more information about the characters while leaving the mystery as unresolved as at the end of the original story.
Always get the last word.
Updates and special offers straight to your inbox.
Keep up with the latest from ZYZZYVA by subscribing to our newsletter.
By subscribing, you agree to our Terms of Use and acknowledge that your information will be used as described in our Privacy Notice.
But The Reservoir Tapes also serves as an enjoyable read or listen (they're available as podcasts on iTunes, BBC, and Audible) for those unfamiliar with McGregor's novel. The imaginative and nuanced vignettes McGregor creates are less about the particulars of Becky Shaw's unnerving disappearance and more concerned with the divergences in morality amongst the villagers.
The book begins with a one-sided transcript of an interview with Becky's mother about her daughter's disappearance. The introductory chapter is haunting and strained, as an unknown voice attempts to ask questions, peppered with apologies and words of comfort, in response to Charlotte's unseen and redacted answers. The conversation generates as many doubts about the ensuing events as it attempts to answer.
While not as stylistically unnerving, the following chapters prove equally absorbing, as they follow each character through his or her outwardly mundane life only to reveal the sordid details of their families, marriages, and friendships. McGregor writes from the perspective of insecure teenagers and the unhappily married, creating distinct narratives articulating a pattern of similarly repressed concerns throughout the village as we're transported to the kitchens and gardens where they spend their misty mornings contemplating their troubles. The vignettes are succinct and impressively subtle, wavering between a mix of reflective and tangential thoughts, offering brief but revealing portraits of the narrators as they see themselves. Occasionally they will deviate from their own self-absorption and off-handedly gossip about the other villagers, fostering the sense that we're amid a close-knit community. By taking the story of Becky Shaw's disappearance from its original long form to a more truncated prologue, McGregor has enriched his story that much more, making the mystery at its center that much more compelling.