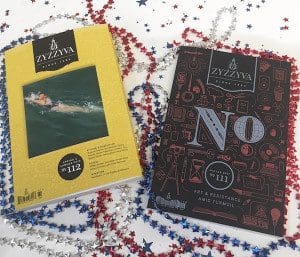 This Independence Day week, champion vision and perseverance with a subscription to ZYZZYVA—one of the nation's few independent literary journals.
Your subscription will include a FREE copy (a $15 value) of our acclaimed Art & Resistance Issue (No. 111), featuring essays, poetry, and stories by T.J. Stiles, Dana Johnson, Robin Romm, Victoria Chang, Krys Lee, Dorthe Nors, Dean Rader,Ruth Madievsky, Jenny Xie, David Hernandez, and many more. (A subscription starts with our current issue, Spring/Summer, which will be delivered to you with the Art & Resistance Issue.)
Always get the last word.
Updates and special offers straight to your inbox.
Keep up with the latest from ZYZZYVA by subscribing to our newsletter.
By subscribing, you agree to our Terms of Use and acknowledge that your information will be used as described in our Privacy Notice.
Subscribe before July 9th, and see for yourself why ZYZZYVA is so widely enjoyed.
And have a Happy Fourth of July!