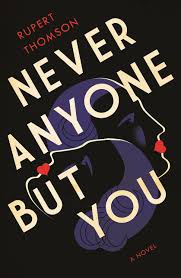 Published in a year defined by women's activism, Rupert Thomson's new novel, Never Anyone But You (368 pages; Other Press), succeeds in reimagining the lives of two of the most intriguing, elusive, and under-appreciated figures of the Parisian Surrealist movement, Claude Cahun and Marcel Moore. As lovers, anti-fascist activists, and even step-sisters, the two were an inseparable creative force during their more than forty years of partnership.
Originally born Lucy Schwob (Cahun) and Suzanne Malherbe (Moore), the pair hailed from two affluent and, well educated families that encouraged their artistic pursuits; introduced as teenagers in 1909, they began an artistic partnership that led to romance. The artists' families became close, resulting in the 1917 marriage of Malherbe's widowed mother to Schwob's divorced father. Ironically, the marriage made it easier for the pair to continue their romantic relationship and live together in Paris, helping them navigate their eras barriers around gender and sexuality. It was around this time in their artistic careers, that they adopted the more gender-fluid identities they would become best known for — Claude Cahun and Marcel Moore.
Outside of Cahun's writing and the pair's collaborative photography, which captured their avant-garde view of gender and renunciation of the patriarchy, there is little work to substantiate the motivations of Moore and Cahun's eccentric and electric lives. This is largely because the Nazi's destroyed their home in Jersey in 1944, when they were arrested and sentenced to death for the creation and distribution of anti-Nazi propaganda. This lack of physical records, coupled with the secrecy necessary to maintain their bohemian and forbidden romance, has left much of Cahun and Moore's private lives to the imagination.
Interestingly, while the couple's art and writing have been exhibited and published since the 1920's, achieving them cult-figure status in gay community and the art world, Cahun continues to receive the majority of praise, despite Moore's intrinsic involvement in their photography and Cahun's writing. (David Bowie said of Cahun's work, "You could call her transgressive or you could call her a cross dressing Man Ray with surrealist tendencies. I find this work really quite mad, in the nicest way.") Unlike some of their Surrealist contemporaries, Cahun and Moore did not use their work to achieve fame or notoriety. Their artwork was boundary breaking, self explorational, and deeply personal. It was not until decades after their deaths that Moore and Cahun's photography resurfaced. Nearly a hundred years later, the pair's androgynous photography continues to be breathtakingly mysterious.
Always get the last word.
Updates and special offers straight to your inbox.
Keep up with the latest from ZYZZYVA by subscribing to our newsletter.
By subscribing, you agree to our Terms of Use and acknowledge that your information will be used as described in our Privacy Notice.
The ingenuity of Thomson's novel is its focus on the relationship from Moore's perspective, fleshing out her identity as a person and an artist in her own right. In this way, Never Anyone But You imagines a tender and, at times, volatile love story for Cahun and Moore. He explores the couple's forty-five-year relationship from beginning to end; twisting and turning through the uncertainties of young love, the security and maturity of lifelong partnership, and the atrocities and violence of two world wars. The book reads as the confessional diary one wishes Marcel Moore had kept. Thomson elucidates Cahun as a prolific artist vacillating between stability and self-destruction, but primarily focuses on the toll this takes on Moore as her life-long confidante and caretaker—a role Moore simultaneously cherishes and fears: "Sometimes the person you're closest to is the one you understand the least. Sometimes, when you're that close, everything just blurs."
As we experience their world, from the extravagant Parisian parties (where they met and befriended Robert Desnos, Henri Michaux, and other Modernists who happened through Paris) to their brutal imprisonment, Thomson's writing brings into being the secret, profound, and determined love Moore and Cahun shared, asking introspective questions in the process:
"Is physical love bound to decay, just as everything in the physical world decays? Is it natural for love to change and deepen into something that feels almost spiritual? Had I altered or had she?"
And,
 "Can the love somebody has for you be tangible like that, there one moment, gone the next? Does it take up space inside you? And when it evaporates, does it leave a gap where it once was?"
One of the strengths of Never Anyone But You is that it doesn't shy away from the plentiful uncertainties of Moore's life and her sorrowful end. The final passages, some of the most striking in the novel, parallel the final scenes of Kate Chopin's The Awakening; exploring the character's resolved final moments in a haze of tranquil dreams and reflections.
It could very well be that our best attempt at understanding Marcel Moore and Claude Cahun's love and art is through Thomson's psychologically mesmerizing re-imagination of their lives, coupled with viewing their art (some of which you can see at SFMOMA's current exhibit, Selves and Others, on display until September 23).