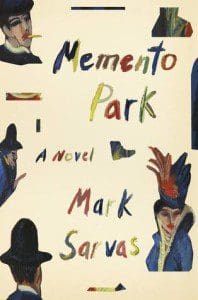 A decade after the publication of his first novel, Harry, Revised, Mark Sarvas returns with Memento Park (288 pages; FSG), the chronicle of one first-generation Hungarian American's journey to retrieve a family painting believed to have been looted by the Nazis. The protagonist, Matt Santos, is an aspiring actor and current background extra living in L.A. at the tail-end of his thirties when he receives a strange call from the Australian Embassy concerning a painting from their database of unclaimed war paintings: the fictional "Budapest Street Scene" by tortured artist Erwin Kàlmàn. The piece belonged to Matt's family in Hungary during the Second World War, and its current value is estimated at two to three million dollars. Desperate for transit documents, his grandfather traded the painting to a member of Hungary's fascist Arrow Cross Party. Unfortunately, the papers did not arrive in time to save his grandmother's life,
This revelation leaves Matt puzzled; the story of his family's escape "had always been a closely guarded secret," and his "repertoire of gesture was too limited." Matt also believes his father is the type of guy who "reveled in getting something for nothing," and finds it strange his father doesn't want anything to do with the painting, at least according to the embassy. Perhaps the story behind the painting could unlock why his family's flight was shrouded in such mystery.
Always get the last word.
Updates and special offers straight to your inbox.
Keep up with the latest from ZYZZYVA by subscribing to our newsletter.
By subscribing, you agree to our Terms of Use and acknowledge that your information will be used as described in our Privacy Notice.
"There was something formidable about him, about his adherence to adamantine standards that I could neither meet nor shake free of," Matt says of his father. Sarvas is an expert at depicting the dualities of the immigrant experience. When speaking in English, Matt's father is laconic and rigid at best, belligerent at worst. But in Hungarian he becomes "like an aria transposed in another key," an amiable, card-playing jokester when around his comrades from the Hungarian Social Club.
Matt's other key relationships—his professional one with Rachel Steinberg, the striking, young lawyer from the World Jewish Congress; and the romantic one with Tracy, his supermodel girlfriend—are also complicated by his quest. Rachel travels with Matt to Budapest to aid him in his search for the painting, leading to amorous feelings that will create problems for Matt's relationship with Tracy. "It often seems to me that the stories of our lives are too easily reduced to single moments of decision, whether to stay or to leave," Matt says. "I suppose The Clash had it right, after all, but the wisdom of punk notwithstanding, I am consumed with this question."
As Matt's journey takes him from Los Angeles to New York and Hungary, Sarvas develops each setting with admirably unique language: "I had missed the spiced metal spell of the ocean," he says of Los Angeles, "missed the gentle curves of the coast highway where the glass-flecked green and blue sheet shoulders up against pale, windswept beaches." And throughout the novel, Sarvas allows his characters moments of self-reflection, ultimately asking if one can continue life's dance when one has failed to learn the steps. (Witness the awkward encounter with Rachel's father during a Sabbath dinner where he questions Matt's lack of Jewish education.) As its protagonist puzzles over his identity, his relationships, and the painter Erwin Kàlmàn's troubled past, Memento Park assembles these pieces into a satisfying whole.