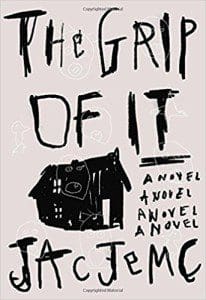 The idea of the "haunted house" novel is at least as old as the Gothic genre itself, dating back to the late 18th century with The Castle of Otranto. But it wasn't until Anne Rivers Siddons published her cult favorite The House Next Door in 1978 that readers learned a haunting, much like real estate, is all about location, location, location. While urbanites who migrated to the suburbs may have thought they were leaving behind the crime and blight of the inner cities for a more tranquil existence, the horror novels of the Seventies were there to teach readers that America's pastoral regions had their own share of maladies—and often the supernatural variety.
It's a lesson that continues to reverberate in the latest novel from Jac Jemc, The Grip of It (288 pages; FSG Originals), as young married couple Julie and James flees the temptations of city life (namely James' gambling habit) to settle in a low-cost fixer-upper in a more rural part of the state. A welcome twist on this familiar set-up is how Julie and James react upon learning of their new house's hidden compartments and hideaways: "I squeeze James's hand and he squeezes back because we have this way of feeling the same about the unexpected, and I know, like me, he is excited about the secret passages…" Genre connoisseurs may find themselves thinking, now here's a couple I can relate to.
It doesn't take long for the duo's excitement to fade, however, as the otherworldly occurrences pile up: local children play a strange game called Murder in the woods; painful bruises sprout upon Julie's skin, seemingly without cause; Julie and James' inexplicably keep waking up in their neighbor's house; and worse. The stress, understandably, puts a strain on the couple's relationship, each partner wondering if the other's outsized behavior is merely retaliation for some perceived slight:
Always get the last word.
Updates and special offers straight to your inbox.
Keep up with the latest from ZYZZYVA by subscribing to our newsletter.
By subscribing, you agree to our Terms of Use and acknowledge that your information will be used as described in our Privacy Notice.
"There's a room behind that wall, but it's gone now."
He looks at me strangely. "That can't be. It's the guest room on the other side. There's not enough space."
I'm too tired to convince him. "Well, I didn't make it up."
I can tell he wonders if this is all a bid for attention, if I was ever even trapped. "Talk to me, Julie. What's going on? Are you mad at me? Are you trying to get back at me?"
I don't know.
Despite an ominous tone, The Grip of It proves a brisk read thanks to Jemc's punchy, to-the-point chapters, each one typically alternating between Julie and James' perspectives. Because Jemc never roots us in a stable point-of-view, she is able to foster in us the same sense of paranoia her characters are experiencing—how can we be certain what Julie or James are up to when they're off camera? This selective vision creates the suspicion we may be witnessing a case of folie à deux, a shared psychosis between a stressed husband and wife pushed to the brink by home ownership, managing addictions, and keeping up appearances for friends and neighbors. "The inability to trust ourselves is the most menacing danger," James muses. "What is worse? To be confronted with an obvious horror, or to be haunted by a never-ending premonition of what's ahead?"
The novel deliberately blurs the line between the supernatural and the mundane, but as with any great horror novel the genre-trappings are merely a framework employed to discuss the pressures of modern life. The looming horror doesn't just rest in the child-like drawings Julie and James discover on a cave wall near their property, or within the secret journal entries they find in the house. There is also their real fear that their relationship can't survive the lure of addiction and the anxiety of becoming bourgeois and out of touch in the suburbs, and that their work life will suffer as a result. Even as possible explanations for the surreal happenings surface—a rare disorder of the nervous system, an extreme reaction to fungal mold—the reader is left to contend with the remaining mysteries that aren't so conveniently solved. "We experience our fear privately," James remarks. "When I see an errant shadow, I tell myself it's nothing. When I notice a row of photos turned facedown on the shelf, I right them." Perhaps that is all we can do when faced with the myriad of experiences that unsettle, that linger without explanation: a quiet resolution to fix the crooked frame.