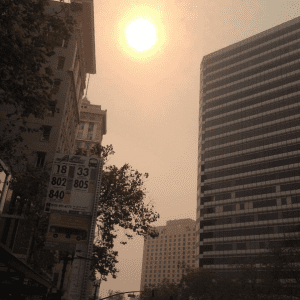 Smoke, ash, and an eerie light are constant reminders of the devastating fires just North of San Francisco. Our hearts go out to all those affected, and we'll be looking for ways to help.
To begin, 7×7 has a list of local relief efforts that we can contribute to, including food donations and fundraising socials,  while KQED highlights ways to help animals that are affected by the Northern California wildfires. In addition, the compassionate crowdfunding site YouCare is raising funds for fire victims in the Santa Rosa community.
Always get the last word.
Updates and special offers straight to your inbox.
Keep up with the latest from ZYZZYVA by subscribing to our newsletter.
By subscribing, you agree to our Terms of Use and acknowledge that your information will be used as described in our Privacy Notice.
Please feel free to share links to similar relief efforts in the Comments section.