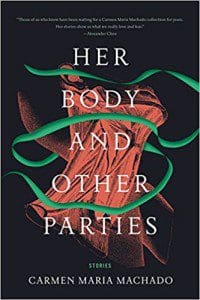 Her Body and Other Parties (Graywolf; 241 pages) by Carmen Maria Machado, which was recently shortlisted for the National Book Award, lives up to the critical acclaim it has accrued. This collection of stories utilizes elements of gothic, speculative, and horror fiction to examine life in a female body and its relationship to sex, food, disease, and the supernatural.
Following horror tradition, objects carry great significance here. The first story, "The Husband Stitch," was inspired by Alvin Schwartz's children's horror story "The Green Ribbon," in which a woman relies on a green choker to keep her head attached to the rest of her body. Machado's rendition follows this green-ribboned woman's relationship with her husband, whose curious fingers constantly mess with the ribbon—trying to slip under it or untie it. The woman, dismayed by this invasion, asks him to let her have this one thing, this one secret. But he cannot.
Machado's use of horror amplifies the bizarre pains, joys, and restrictions women face. In "Eight Bites," a woman's basement is haunted by her old body after she undergoes gastric bypass surgery. When the narrator confronts her former self, it is a soft, helpless ghoul: "It is just a body with nothing it needs: no stomach or bones or mouth. Just soft indents. I crouch down and stroke its shoulder, or what I think is its shoulder. It turns and looks at me. It has no eyes, but still, it looks at me. She looks at me. She is awful but honest. She is grotesque but she is real."
Always get the last word.
Updates and special offers straight to your inbox.
Keep up with the latest from ZYZZYVA by subscribing to our newsletter.
By subscribing, you agree to our Terms of Use and acknowledge that your information will be used as described in our Privacy Notice.
"Real Women Have Bodies" is a speculative piece which imagines a world where, for no discernable reason, some women start "going incorporeal," becoming more transparent and permeable until they are essentially nothing. Sex is an important component of this story, as the main characters struggle to hold onto their bodily joy while they still can. ("I come fast and hard," the narrator says, "like a bottle breaking against a brick wall"). Some of the vanished women, entirely dematerialized, allow themselves to be sewn into the lining of prom dresses. In Machado's work, emotions materialize and materials become embedded with emotions.
She also has a fascination with pandemics, which she explores in not just "Real Women Have Bodies" but elsewhere. "Inventory" recalls a modern viral plague through one woman's detailed list of her sexual encounters. The threat of disease hangs heavy over these women as they try to live their lives with as much happiness (and as many orgasms) as they can get away with before being swallowed up by death or disappearance.
Many of Machado's characters are haunted. "The Resident" tells the story of an artist in residency at a rural mansion who cannot shake off the abuse she experienced as an adolescent at the hands of her fellow Girl Scouts. In "Difficult at Parties," a woman tries to get over a terrible sexual trauma by watching porn, and realizes she can hear the thoughts of the characters in the films. "Especially Heinous: 272 Views of Law & Order: SVU" takes the notion of a haunting to the next level: after watching Law & Order straight through with a high fever, Machado was inspired to synopsize an SVU from a parallel universe, where the same characters are plagued by doppelgangers and victims of "especially heinous" crimes, including ghost girls with bells for eyes. "She stands over Benson's bed, the right bell tinkling faintly, and then the left, and then the right again," Mochado writes. "This happens four nights in a row, at 2:07 am. Benson starts sleeping with a crucifix and pungent ropes of garlic, because she does not understand the difference between vampires and murdered teenagers. Not yet."
By taking to its ultimate (and extreme) conclusion the significance of inhabiting a female body, Machado makes the supernatural and madness feel eerily familiar.