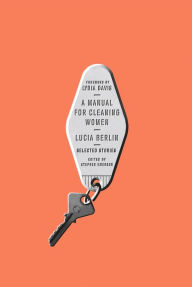 By any estimation, writer Lucia Berlin led a full life. As a small child growing up in 1940s Texas, she fended for herself against an abusive grandfather while her mother remained a distant figure. Her glamorous teen years were spent in Chile among wealthy expatriates, attending dances and other high society functions after her father struck it rich in the mining industry. As an adult, Berlin frequently moved across the United States and Mexico, including a lengthy stay in the Bay Area. Along the way, she married three husbands, mothered four sons, and held an array of  jobs–from cleaning woman to emergency-room staff member to high school teacher. For much of this time, her greatest struggle was with alcoholism. Berlin chronicled these facets of her life in her highly autobiographical stories, ones she produced intermittently over several decades of writing—some theorize perhaps too intermittently for Lucia Berlin to ever gain the wide recognition she deserved.
A new collection seeks to rectify Berlin's absence from the canon of all-time great short story writers. A Manual For Cleaning Women (Farrar, Straus, and Giroux; 403 pages) compiles forty-three of Berlin's finest pieces, assembled from across her entire career. Featuring a foreword by Lydia Davis, who maintained a friendly correspondence with Berlin, this literary "mix tape" of Berlin's writing is the perfect way for new readers as well as for existing fans to experience her work in a new context.
Always get the last word.
Updates and special offers straight to your inbox.
Keep up with the latest from ZYZZYVA by subscribing to our newsletter.
By subscribing, you agree to our Terms of Use and acknowledge that your information will be used as described in our Privacy Notice.
Berlin's candid stories often feature beleaguered women at the end of their rope, whether it's a patient trying to find hope in a grim detox clinic in the middle of the New Mexico desert ("Strays") or a mother who must contend with legal trouble while navigating a mutually destructive relationship with her teen son's friend ("Let Me See You Smile"). Berlin touches on topics like police brutality, racism, and the maze of the American health care system–topics that continue to circulate in headlines today. Her tales arrive stripped of any hint of sentimentality and unfold with the hushed intimacy of a confession. This is writing from someone who possesses the courage to admit she doesn't have everything figured out, even after decades of living on this earth.
Collected in this way, Lucia Berlin's stories reveal multiple narrative threads running throughout her work, with several pieces touching on her complicated and ever-evolving relationship with her younger sister, who later in life had cancer. Berlin even allowed her characters to cannily remark on the autobiographical nature of her writing: at one point the narrator of "Silence" admits, "I exaggerate a lot and I get fiction and reality mixed up, but I don't actually ever lie"–a statement that could readily serve as a mission statement for Berlin's style. The author's brief stint in Catholic school perhaps ensures that religion lingers like a specter in the background of the book. Her characters frequently struggle to ascribe meaning to their existence, searching for those fleeting moments when "…just for a second, you get this grace, this belief that it does matter, a whole lot."
As a writer, Berlin leaned toward a clean, minimalist style. Her prose proves sparse, with nary a wasted word. Some of the stories in A Manual For Cleaning Women are so compressed that they could be called flash fiction. Berlin was capable of crafting the kind of sentence that stops a reader cold: "Unmanageable," one of her finest stories and an absolutely haunting portrayal of a mother grappling with the grim realities of alcoholism, opens, "In the deep dark night of the soul the liquor stores and bars are closed."
Berlin's writing is similarly awash in lush sensory details: a character in "Electric Car, El Paso" eats a Fig Newton and observes, "The cookie expanded in my mouth like Japanese flowers." In another tale, the narrator watches a woman crying and notes, "Tears filled her eyes, caught in the lashes and didn't fall, reflected the green palms so it looked like she was wearing turquoise goggles." Berlin also makes use of rich metaphors. In "Step," patients at a West Oakland rehab center gather around the television set as a boxer tries to remain standing in the ring against the legendary Sugar Ray Leonard, the bout becoming a potent representation of their own fight against addiction.
The settings of these stories include laundromats, dental offices, city buses, and emergency rooms. The way in which Berlin utilizes these mundane and commonplace landscapes to explore certain human truths, along with her stripped down and frequently conversational style, links her to writers such as Raymond Carver and Bobbie Ann Mason of the "Dirty realism" aesthetic of the Eighties. Berlin herself cites Anton Chekov as a key literary model in the rather meta-fictional short piece "Point of View."
Among the many revelations of A Manual For Cleaning Women is the way in which the forty-three stories here begin to accrete into a profile of Lucia Berlin the individual. Through repeated cultural references, Berlin reveals herself as an extremely well-read writer (Gustav Flaubert and James Baldwin earn a mention, among many others) who possessed an affinity for the strong leading women of the Classical Hollywood era, particularly Joan Crawford in Mildred Pierce. The reader comes away with the feeling she's been offered a glimpse into Berlin's world; and it is not a world that has been sugar-coated or diluted in any way. In a story in which the narrator's father must contend with the phantom pain of his amputated legs, an African-American nurse shrugs and remarks, "All pain is real," a statement that reverberates throughout this entire collection.
As Lydia Davis rightly states in her foreword, Berlin's writing tends to offer its characters rare moments of catharsis but never grants them the expected literary epiphany. After what was doubtlessly a lifetime spent observing human behavior with a keen eye, Berlin was well equipped to broach the uncomfortable truths of our existence. Her stories reveal the wisdom that even when we are able to recognize our worst, most self-destructive tendencies–even when we desperately want to change–we are often still powerless or unwilling to correct our actions. To read Lucia Berlin is to explore humanity's seemingly limitless capacity for grace and tragedy alike. Essential reading, A Manual For Cleaning Women serves as both a sterling reminder of the distinct pleasures the short story can offer and a fitting testament to one of the 20th century's greatest practitioners of the form.