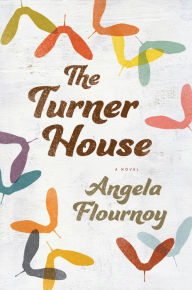 Set primarily in Detroit, Angela Flournoy's riveting and acrobatic first novel, The Turner House (Houghton Mifflin Harcourt, 352 pages), flips among several points of view and timelines: principally between the Great Migration of the mid-1940s—when Francis Turner leaves his young wife, Viola, and their infant son behind in Arkansas to prepare a new life for the family in Michigan—and 2008, when Viola is near the end of her life and about to lose the family home. This spells potential tragedy, as both mother and house are the last points of connection among the couple's thirteen children.
In the story's central timeline, Francis has already died and Viola's advanced age and ill health have forced her to move in with her eldest son, Cha-Cha. With thirteen kids, Viola should be spending her last hours holding loved ones' hands, surrounded by the noise and activity that was the soundtrack to her life. But each son and daughter has such complicated and all-consuming struggles, that it's just as likely Viola will die alone, at night, held only by the chemical grip of morphine under the crackling blue light of an infomercial.
Not that she isn't loved, or won't be sorely missed. Viola's selfless, unassuming motherhood has earned her the respect of her children, as much as they have a capacity to give it. The Turner kids come from a legacy of deceit, addiction, lust, love, rivalry, longing, and deep camaraderie. Most potent, and an aspect Flournoy skillfully crafts into each of their psyches, is the legacy of neglect—neglect of each other, of themselves, and neglect by a corrupt political system.
Always get the last word.
Updates and special offers straight to your inbox.
Keep up with the latest from ZYZZYVA by subscribing to our newsletter.
By subscribing, you agree to our Terms of Use and acknowledge that your information will be used as described in our Privacy Notice.
The Turner House embodies the economic crises and social upheavals that would culminate in 2013 with Detroit—a 142-square-mile city that at one time boasted the country's fourth largest population—would file for Chapter 9 bankruptcy, making it the biggest municipal default in U.S. history. Though Viola still owes $40,000 on her mortgage, the house's 2008 market value is a mere $4,000. "The house on Yarrow Street," as Flournoy writes, "was their sedentary mascot, its crumbling façade the Turner coat of arms. But it disintegrated by the hour. Mold in the basement, asbestos hiding in the walls.… [Cha-Cha] understood these things pointed to abandonment. He knew he should walk away from the place, let it become one more blasted-out house in a city plagued by them. But what to do… his impulse leaned toward preservation, but at what cost?" This dilemma polarizes Viola's offspring, who can't decide what to do with the property. Viola won't let it go, and stubbornly clings to the hope that she'll get to live there again. But she won't, not without a family member to care for her, and even the most destitute Turner refuses to take that on.
Some of the Turner children are adamant they should keep the house, while others want it gone. One, the offspring you'd least expect to defy the law, wants to default on the mortgage and "short sell" it to a spouse who's not legally related. Others refuse to take part in any sort of dishonest scheme. At times the brothers intentionally leave their sisters out of the debate, but everyone gets their chance to weigh in on the matter, making consensus impossible. This leaves the high-pressure decision to the head of the family—or to the less scrupulous of the brood, if they're quicker on the draw. Meanwhile, all around them, people are defaulting on properties no longer worth their mortgages. Homes in the Turner's old neighborhood are being razed or set ablaze after being stripped of anything worth selling, including copper wires and pipes.
Though their family home sits empty and uncared for, the Turner children do return in times of personal turmoil, though not necessarily to recapture what was beloved about childhood. The youngest Turner, a gambling addict named Lelah, is forced to crash there after being evicted from her apartment. Lelah's addiction, which reflects the huge role casinos play in Detroit now, provides most of the book's dramatic tension, as she refuses to talk about her problem, even under duress. She's determined to hide her bankruptcy in order to protect her family—and her own tenuous position within it—for as long as she can. In the days before Lelah capsizes her life, she's living countless contradictions. She loves her grandson and takes care of him while her daughter works, yet she'll miss days without notice and won't answer her phone or return messages, even in purported emergencies. She's deeply nostalgic about the same childhood treasures that she can't resist pawning for a fraction of their value.
Irrespective of whether any of these character's motives are selfish or selfless, the lies and secrets are abundant in this richly complex novel. In the Great Migration sections of the novel, we witness Francis making unconscionable choices, the consequences of which will eventually haunt his children. And in the book's opening we see Cha-Cha, just on the brink of adulthood, having a life-and-death struggle with a "haint" (a Southern colloquialism for a ghost). Though the attack happens in full sight of the other Turner kids, Francis firmly insists "There ain't no haints in Detroit." The phrase becomes legendary in the household. Whether any of the kids really saw what they claim, and whether Francis's confidence that nothing happened is a front for his own terrors, it's no coincidence that the incident happens shortly after Cha-Cha claims the closet room as his own.
As a conscious nod to the literary traditions of Toni Morrison and Zora Neale Hurston, the ghost motif defines Cha-Cha's story. The ghost will later reappear at the worst possible time, and in the aftermath Cha-Cha is legally obligated to see a psychoanalyst named Alice Rothman, a young, African American woman. Alice's attention further complicates the narrative as Cha-Cha's feelings get jumbled by having, for the first time in his sixty years, someone who will listen to him without judgment or comment, someone in whom he can truly confide.
This is yet another irony about large families that Flournoy skillfully captures: there are always people around to talk to, but that doesn't mean you'll have someone who will listen. Big families require compromises, patience, and a healthy respect for sharing, whether it's resources, food, toys, or parental affection. They're a contradiction of feuds, friendships, and frustrations. Even if Flournoy's decision to chop up the timeline and shuffle the pieces sometimes leaves the reader struggling to connect a character's decision to its repercussions, as a sociopolitical examination of a big family determined to thrive within an oppressive environment, The Turner House is masterfully wrought.
The Turners are compellingly imperfect people: cheaters and addicts, lovers and nurturers. At times they avoid each other. Other times they gather to play, laugh, and dance. In their own ways, they seem to cherish the unique bonds forged among them—even with siblings they wouldn't otherwise choose to have in their lives. At the book's end, it's a minor frustration to have no real closure on these intriguing lives, and yet, wondering about what transformations might still come for this family is also part of its pleasure.