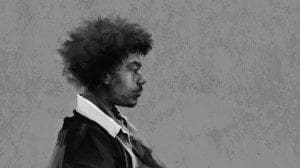 A lot of the conversation in the Bay Area about art and tech describes an alienated, if not antagonistic relationship between the two spheres. Tech workers "displace" artists in much of the dialogue about rising rents and gentrification. Tech also threatens art by making its replicability ever easier and cheaper, and by fostering a culture of consumption that habituates people to enjoying the works of writers, artists, actors, and musicians for free.
And yet, a fruitful relationship between the two camps isn't impossible. San Francisco startup Depict is hoping it has found a way to (in startup language) "optimize" the performance of both with its new venture: an online gallery that lets people collect digital art and display it on any desktop or mobile screen.
Always get the last word.
Updates and special offers straight to your inbox.
Keep up with the latest from ZYZZYVA by subscribing to our newsletter.
By subscribing, you agree to our Terms of Use and acknowledge that your information will be used as described in our Privacy Notice.
Depict's collection is composed entirely of digital art, including photography, videography, digital painting, and pixel compositions. The diversity of genres available to digital artists is evidenced in Depict's featured work, which ranges from emphatically high-tech moving fractal patterns to portraits so painterly one might easily forget they weren't rendered in oil on canvas. Images can be bought individually or obtained by "subscription" to a monthly collection of pieces selected by Depict's curatorial team and gallerists, artists, and other curators from around the world. The subscription model allows for the discovery of new artists as much as it allows for the acquisition of their works, which then can be displayed on any screen, where one piece can be switched out for another, either as the mood, or a perfunctory slideshow, dictates.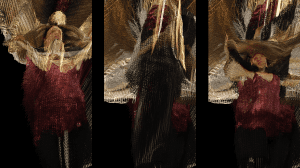 Though I had not previously been familiar with digital art, exploring some of the work of the artists on Depict has been pleasantly surprising. For example, video artist Lisa Banks uses motion sensor technology to capture her own movements and combines the captured phases of motion into still images. Her "Triptych 1" is ebulliently dynamic in blacks, gold, and gorgeous scarlet. Originally trained in math and science, Yue Li also works from live models, using Photoshop to create impressionistic portraits. In Li's "Untitled," the blurriness of a young man's hair, face, and body contrasts with the greater sharpness around the eyes, inviting one to wonder on the subject's interior life, rather than exterior circumstances. And artist Jaco Putker's mixed media digital collages combine vintage photographs and drawings to create sinister, acid-dream fairytales involving children, animals, and obscure and diverse symbology. They are playful, witty, and darkly beautiful, like nursery rhymes you rethink after learning they were about the Plague.
Pieces such as those by Li, Putker, and Banks are created in limited editions and are non-downloadable, securing the value of the works and the artists' gains from their legitimate sales. And because prices start at $8, the potential is there for a whole new echelon of society to collect art, and, perhaps even more compellingly, to start thinking of themselves as art collectors, a pursuit often mistaken as the luxury hobby of the one percent. Depict hasn't completely leveled the field, though: while pieces can be displayed on any TV with an HDMI outlet or on Apple devices (Android service is still in the works), the more sophisticated hardware for best displaying one's collection is far from cheap. Still, in an era in which more and more people own at least one "smart" device, and in an art market evermore obsessed with blue-chip dealings, what Depict offers seems a sort of compromise, one that, refreshingly, protects and benefits the artists themselves, who get sixty percent of every sale.