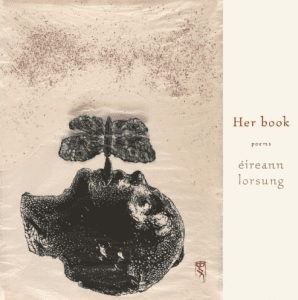 Her book (Milkweed; 76 pages), the latest poetry collection from Éireann Lorsung, is a surprising and eloquent look into a highly physical, sensuous world. In particular, Lorsung is concerned with the delineation of the (female) self as it relates to its surroundings, both natural and constructed. Through many small moments that are exactingly crystalized, she builds a powerful, wider vision of a woman's life.
The first part of Her book, "Fifteen poems for Kiki Smith," revolves around artist Kiki Smith, lingering on Smith's treatment of the female body (in which she subverts the blatant sexuality traditionally surrounding the female form in art, focusing instead on its fertility and hidden interior), and her treatment of nature, and the mythic and religious imagery linking these two (that is, woman in nature). Each of the fifteen poems is titled after one of Smith's pieces, and though it's not necessary, it certainly helps if the reader is familiar with Smith's work.
Always get the last word.
Updates and special offers straight to your inbox.
Keep up with the latest from ZYZZYVA by subscribing to our newsletter.
By subscribing, you agree to our Terms of Use and acknowledge that your information will be used as described in our Privacy Notice.
For example, in Lorsung's poem "It falls into ruin by its own weight," the poet is referring to a bronze sculpture by Smith. The poem runs, "Let's punish all those women. / Let's punish them hard […] Let's show those women / they can't be trusted / with the frangible innards / we've taken so much time to cultivate." These strident, angry lines are given a measure of irony and distance when you know that the sculpture, "Vis Consili Expers Mole Ruit Sua (It Falls into Ruin by its Own Weight)," is a replica of Smith's skull. In one potential reading of this poem then, we can read the angry male speakers as being subverted and subdued, as Lorsung shows them as already lifeless and ruined, their ruthlessness the weight that leaves them outdated.
Lorsung's voice is uniquely suited to interpreting Smith's work. For one, her imagery grounds itself heavily in the physical, in ways both recognizable and startling, allowing us to reimagine Smith's art on the page. Lorsung's opening poem, "Revelation," which refers to Smith's piece of paper-mache "bandages" encircling a figure, ends: "The body inside the hair room / is speaking like most other bodies; its speech packs around it like wasp / paper. Speaking a thin, permanent / archive. What we call a woman." Lorsung's "wasp paper" is striking both as image and as metaphor—paper recalls the text and Smith's idea of archive, while the wasps and their cousins, bees, will return throughout the book as symbols of generation and of industry, of many elements joining together to form a whole greater than the sum of its parts. Together, these lines begin a discourse that will continue through the book—a discourse touching on modern womanhood, on bodies "speaking" their own physical language, and on archives and the ways one's physical surroundings can act as part of this language.
Lorsung also shares Smith's preoccupation with the body and corporeality, though Lorsung is particularly concerned with underscoring the small pleasures and victories that come from inhabiting flesh. In "Honey brain," another of the Smith poems, the speaker tells her self: "body, you are pleasing / in general […] aromatic, perfumed, soft, / rich, lyrical, / wholesome, / agreeable, good, charming, / lovely, / full of delight." In "City pleasure," from the second cycle, "Girllife," Lorsung writes, "Sitting near people you don't know, you will want to touch them. / Your body will hold itself from touching them." The distinction here between "you" and "your body" is subtle but deliberate, as is Lorsung's assertion of the body's agency (it will "hold itself"). Lorsung also is interested in the tangibility of everyday objects, especially feminine-coded objects such as dresses, gardening tools, or knitting. In "A collection of beauties at the height of their popularity," Lorsung describes an "egg-blue dress […] your chartreuse sweater […] velvet nap rubbed back with a hand." (Though not a part of the Smith cycle in the book, this, too, seems a nod to Smith, who often incorporates textiles in her work, from silkscreened images to felt patches made from human hair.)
If Lorsung is attending to small, potentially frivolous things in her poems, such as "stocks of flower seed […] pressed leaves, books of poems, tea in packets […] paper birds and animals with pin joints," it is with a deliberate knowingness (though certainly not irony—Lorsung never devalues the domestic or the comforting). Lorsung's assured and careful cataloguing of these "most secret things" is more than mere color. In "Single-page drawing," from Lorsung's final poem cycle, "Reconstruction," her speaker declares, "the mark of my hand is a hand-shaped print. / Listen! I'm making these things to show you I was / here. The outline of my hand. My body. My dresses." Each of these personal moments, then, collide and link to form a compelling picture of a felt presence.