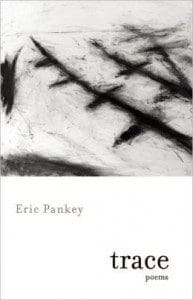 Eric Pankey's new poetry collection, Trace (Milkweed, 68 pages), is an intense journey of powerful language to the edge of the wilderness. Even as his poems invoke a sense of earthly calm, the threat of danger looms throughout these poems, grabbing our attention and holding it throughout.
Much of Trace is set in the natural world, offering a somber examination of the ways in which humans occupy the space. Nature here is constant, balancing the frenetic sphere of humans, a realm in which homes are burning down and people are leaving, crying, or simply trying to find themselves. Often, Pankey will use death to show how these worlds intersect. In "The Place of Skulls," he writes, "After the body's hauled down, the tree resumes / Its life as a tree." The enduring mystery of the natural world is also examined, perhaps most evident in lines such as these from "As of Yet," where Pankey writes, "Call it paradise, this enclosure of trees / No graves yet."
Always get the last word.
Updates and special offers straight to your inbox.
Keep up with the latest from ZYZZYVA by subscribing to our newsletter.
By subscribing, you agree to our Terms of Use and acknowledge that your information will be used as described in our Privacy Notice.
The spirituality of Trace is not simply beholden to how it addresses nature. The voice of the poems addresses human spirituality often, though it doesn't seem to be grappling with the issue of what exists and what does not. Rather, the poems offer beautiful insight into how human consciousness exists in concert with nature. In "Edge of Things," we read, "I wait for the resurrection, but wake to morning; / Mist lifting off the river." On a similar note, "Cold Mountain Meditations" informs us that "No god offered us fire. A burning branch / Fell from a tree and we dragged it home." These poems are not a rejection nor outright acceptance of any religious credence, but an examination of how the essence of humans is easily reflected amid the beauty of nature.
The references to religion are thought-provoking, but Pankey's diction and word choice are arresting, too, often causing the reader to pause and reflect. In "Ritual," he directly tells us, "Repetition is an aid to memory." Repetition is also a tool frequently used in the collection to invoke reflection, and helps deliver some of Trace's more skillful lines. In "The Creation of Adam," the poem ends with "The scarecrow, who had listened well, knew / If he chose, he could shrug, and shoo the crow. / If he chose. And could shrug. And could move his lips." Unlike humans, unlike Adam, the scarecrow has no free will.
Trace deftly surrounds the reader in the natural world, offering us a chance to ruminate our existence inside of it. In the collection's final poem, "Sober Then Drunk Again," we read "Once I drank with a vengeance / Now I drink in surrender." While reading Trace, we surrender ourselves to Pankey's vision, and conclude the book deep in thought.