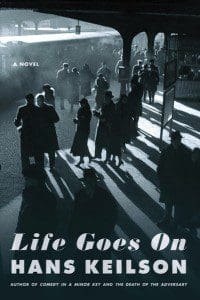 Originally published in 1933, Hans Keilson's recently translated first novel, Life Goes On (Farrar, Straus and Giroux; 255 pages; translated by Damion Searls), is a gripping story of a family living in post-World War I Germany. Keilson's autobiographical novel, which came out when he was only twenty-three, is a striking exploration of struggle, shame, and hope, and what it means to live.
Life Goes On follows the lives of the Seldersens as they face the economic turbulence sweeping Germany. Herr Seldersen, a veteran of the Great War, runs a small shop with his wife. Even as they try to make ends meet, companies, big and small, declare bankruptcy across the nation. Everyone is mired in debt. Fewer customers come to the store to buy even fewer goods, and most everything is sold on credit.
Always get the last word.
Updates and special offers straight to your inbox.
Keep up with the latest from ZYZZYVA by subscribing to our newsletter.
By subscribing, you agree to our Terms of Use and acknowledge that your information will be used as described in our Privacy Notice.
"Resist every change for as long as you can," Frau Seldersen says early on. But as the financial burden grows ("Not even in the war years had spirits been so low"), husband and wife are forced to question the values by which they live. Keilson powerfully portrays the deterioration of the human spirit as Herr Seldersen fights to hold onto his ideas of trust, loyalty, and independence. He must confront his customers, plead with creditors, and borrow money and goods from competitors. "In cases like this you have to look out for yourself, and not anyone else," a friend warns. Soon, Herr Seldersen is questioning the price for survival. Keilson's moving narrative constantly asks, Where can hope be found in the face of such indignity?
Alongside his father's sad happenings, young Albrecht Seldersen faces his own worries. He has left home for Berlin, where he plans to pursue his education in the midst of the country's collapse. Albrecht's story is a grim coming-of-age, in which he is hit hard and quickly by the truth. In Berlin, "everything was totally different from what he'd expected," and he strives to balance his studies with his work as a musician.
Through these individual characters, Keilson emphasizes the idea of interconnectedness. Despite Herr Seldersen's early declaration of being "alone and proud of it," the family comes to learn that "[n]othing that ever happened had consequences limited to the event itself—everything was linked by fate, one way or another, and in the end no one could escape their share of responsibility for the whole."
Life Goes On is the story of a family's shame and suffering, but it is also the story of  how pain and hope are communal journeys. As Albrecht learns say, "I have to dare to join in, take the step of becoming part of something where I think I belong, something that offers me a chance to live."
Though written decades ago, Keilson's novel addresses realities that will never cease to be true. Life Goes On presents the world in its ugliness and dares us to reach for something better.