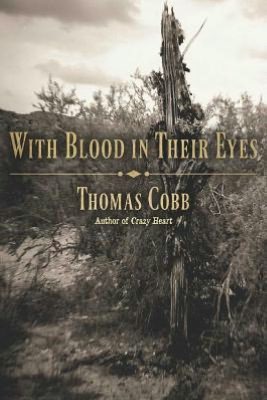 In his latest book, With Blood in Their Eyes (University of Arizona Press, 210 pages), novelist Thomas Cobb's roster of main characters is small: brothers John and Tom Power, hired man Tom Sisson, and the two festering eyeballs of the title. Framing a real-life 1918 Arizona standoff between the Powers and the law within a much larger exploration of Southwestern societal change, Cobb (whose novel Crazy Heart was turned into a critically acclaimed movie starring Jeff Bridges) crafts a breathless escape story and stops just short of the historical record's unhappy ending.
Years before the shootout that would leave them homeless, fatherless, and with only two functioning eyes between them, John and Tom Power eke what they can as cowboys and miners in this particularly brutal part of the desert. They have little interest in the workings of the world outside their cabin high in Rattlesnake Canyon, but that doesn't stop change from happening. Mormons have saturated Graham County's political office, and as a result, both Prohibition and an illegal whiskey trade are in full swing. Barbed wire slices previously open grazing land into violently defended private property. And telephones make it nearly impossible to run from a crime.
Always get the last word.
Updates and special offers straight to your inbox.
Keep up with the latest from ZYZZYVA by subscribing to our newsletter.
By subscribing, you agree to our Terms of Use and acknowledge that your information will be used as described in our Privacy Notice.
The casing of Cobb's narrative is the decades-long saga of John and Tom's family, a dwindling pack of hard-bitten people who work hard to preserve their tiny existence as others push in. Instead of holding sympathetic characters, the whole family is magnetic for its roughness. Theirs is a struggle to survive, not a struggle to please. They brush off major injuries, effortlessly attracting awe, both from the townspeople and us. Cobb's us versus "thems" structuring is a compelling one, though it's hard to like anyone here. The actions and motives leading to the shooting aren't even revealed until the last days of the chase, when all finally makes sense.
Despite its straightforward central plot (will the posse "get us dead"?), With Blood in Their Eyes is peppered by Cobb's beautiful, layered details. The larger story unfolds carefully and slowly, piling up tiny moments from the brothers' lives: herding cattle, chipping into the mountain for gold, staring up at a mass of bats blacking out the sky, and stumbling upon a cache of bootlegged whiskey. Cobb's unforgiving Arizona landscape is seamed with razorback ridges and shallow arroyos. Horizons exist to be reached for, as quickly as possible, with no thought of the past and only a desperate hope for the future.
Love is not something easily harvested in this world; instead, it is mined with a great deal of backbreaking work. Obvious, though, in all that Cobb writes is an admiration and fascination running parallel to the Power brothers' story, as well as a deep connection to the Arizona desert and its people. Joys are small and fought for here, and achieving them all the more profound in this time and place full of expected sad endings.