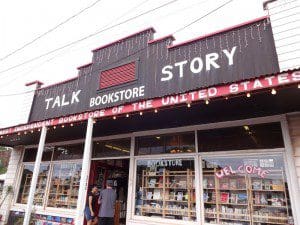 Along Hanapepe Road in Hanapepe, Kaua'i—a town as wet as it is green—the storefronts this August morning are still shaded; it's too early for anyone but tourists. Besides the rare interruption of a passing car, movement is confined to two locations: a cafe selling wraps named after punk bands (and also where someone has scrawled in Sharpie on a bathroom wall "LEVON RIP 4/19/12," a reference to the late drummer of The Band) and the local bookstore. Talk Story, which derives its name from the Hawaiian slang for casual conversation, establishes its noteworthiness immediately: "THE WESTERN-MOST INDEPENDENT BOOKSTORE OF THE UNITED STATES" is spelled out in white paint across its eaves.
If Manifest Destiny was a rowdy, winner-take-all odyssey westward, Talk Story is its antithesis. Behind its barn-like front, replete with a porch, is a river that winds to the Pacific; the red-trimmed structure itself seems as much a fixture of the landscape as the boulevard. Age has something to do with it—the building, originally painted entirely red, was erected by the Yoshiura family in 1925 and served as a grocery store for decades. The gravel parking lot leads straight to the store's wooden planks, atop which sit rows of bookshelves (some from a now-shuttered Borders), crates of texts by local authors, a stone Buddha, and chunks of wood inscribed with bibliophilic phrases. "Reading takes the mind to places your body cannot go," declares a block carved with palm trees.
The story of Cynthia and Ed Justus—Talk Story's founders and two "self-proclaimed geeks" with a penchant for everything sci-fi, from Doctor Who to Star Trek—is one of modern diaspora. While visiting from Virginia, the two decided to stay, leaving behind their rental home and retaining only the contents of their luggage. It's been years, and the couple says they haven't been back to the mainland. Since then, their bookstore has garnered a collection awards from local and mainland associations.
Always get the last word.
Updates and special offers straight to your inbox.
Keep up with the latest from ZYZZYVA by subscribing to our newsletter.
By subscribing, you agree to our Terms of Use and acknowledge that your information will be used as described in our Privacy Notice.
When Talk Story opened in 2004, it was christened Talk Story Books, Coffee, and Curiosity. More than seven years later, the espresso has vanished ("Coffee doesn't sell books. It sells coffee," Ed says, citing a 3 to 5 percent crossover between drinkers and book purchasers) and the name's been abbreviated, though its building-length claim to its status as the westernmost bookstore in the U.S. has been appended.
Like the Justus's recollection of seeing a nighttime double rainbow as a sign of good times ahead for their store, Talk Story's slogan was a matter of serendipity. One day, a man walked in with a caddy of postcards that included a photograph of the store with the "westernmost bookstore" tagline Photoshopped onto the building. He asked if they'd stock them; they agreed. Not long after, Ed and Cynthia decided to apply paint to the plywood overhang, taking the slogan out of the imaginary and into the actual.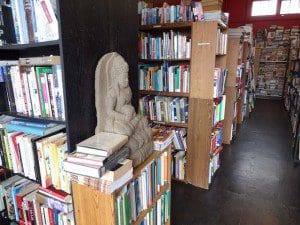 More a site of community get-togethers than a profit-charting business, Talk Story is a locus of interaction. Readings from Hawaiian authors take place on Friday nights, but there is no official reading series; celebrity status "doesn't mean as much here," Ed says. Volunteers help sort books, stock the shelves, and reorganize them, no small task given the shop might process 25,000 books in a week—3,000 to 4,000 of which they keep. "There is no shortage of books on the island," Cynthia says. Neither is there on the store's inventory. I end up—as I usually do—in the poetry section, where I find a haiku contest pamphlet from the '60s containing an ekphrastic collaboration between Robert Frost and Norman Rockwell. And I nab a 1958 edition of The Devil's Dictionary by Ambrose Bierce from a nearby shelf.
The mood at Talk Story matches the general disposition of the Garden Isle, where gatherings are as frequent as they are laid-back. There are no shoplifting detectors ("We have the best security system in the world," Cynthia says, pointing to the façade. "It says 'bookstore.'"), books are priced at the counter, and locals get a "Kama'aina discount" on what they buy. Patrons can sell back their libraries, too. "We could probably make more money if we were stricter about our business practices," Cynthia says, shrugging. "But what's the point?"
The business, and the ethic it's run by, appears to have inspired the sort of cult allegiance indie bookstores are receiving even as the book-selling industry enters an era of mass extinction. While Cynthia and I chat, a visiting woman and her husband come in to ask for a specific travel guide. Cynthia says she doesn't have it, and suggests some chain superstores in the area where it might be stocked. But the woman is adamant. "I wouldn't even think of supporting them," she says.
Despite the closure of other bookstores in the Hawaiian islands, neither Cynthia nor Ed seem troubled. They see the shift from print to online, from corner bookstore to Amazon.com, as a swapping of means and not ends. Cynthia is convinced that "there are more people reading today than ever," and that electronic book purchases are merely a reincarnated form of their analog, mail-order predecessors. "Things change," she says. "I don't see you saying, 'I wish we still rode around with a horse and buggy.' We're always moving forward. Or sideways."
"We see the store as a tool for us to engage with the community," she says. "I like to bring people together. We just see this as fun." And fun it is—but telling, too; I leave the shop thinking I'd visited a soon-to-be artifact, the last of an endangered species. Whether or not literature's digital migration spells its doom, I can't accept the idea that all changes are the same—that book culture will suffer no consequences even as its shared spaces disappear. "Oh, spread the news, / 
The news of golden Virginia across the sea…" wrote Stephen Vincent Benét in his 1943 epic of American expansion, Western Star. Benét was praising conquest, but he might as well have been exhorting his readers to heed what lies in unnoticed niches, in those quiet coastal towns where people "talk story" over books and—maybe—a cup of coffee.