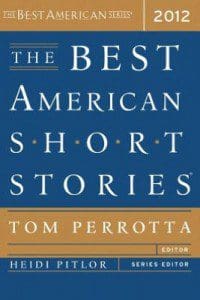 We're happy to announce two stories published in ZYZZYVA last year—Tom Bissell's "Love Story, With Cocaine" and Andrew Foster Altschul's "The Violet Hour"—made the Notables list for Best American Short Stories 2012.
Bissell's story (you can read an excerpt here) appeared in ZYZZYVA No. 92 (Fall 2011) and Altschul's story in ZYZZYVA No. 93 (Winter 2011).
Always get the last word.
Updates and special offers straight to your inbox.
Keep up with the latest from ZYZZYVA by subscribing to our newsletter.
By subscribing, you agree to our Terms of Use and acknowledge that your information will be used as described in our Privacy Notice.
Among the other stories named to the Notables list are pieces from The New Yorker, Harper's, Tin House, and McSweeney's and work by such authors as Jonathan Franzen, Alice Munro, and T.C. Boyle.
Of special note to our readers: ZYZZYVA will be publishing or will have published work from six other writers named to this year's Notables list: Will Boast (Fall 2011), Ron Carlson (Winter 2012), Jennifer Dubois (Winter 2012), Karl Taro Greenfeld (Fall 2012), Peter Orner (Spring 2012), and Don Waters (Spring 2012).