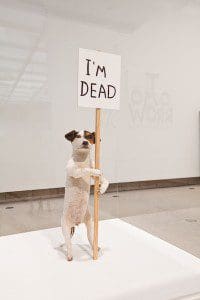 No one can fully appreciate the comedy and the strangeness of David Shrigley's work without first becoming acquainted with his drawings. As bizarre as they are funny, these drawings are the Shrigley staple, a primer for his sculptures, photography, paintings, and installations. Rather than simply a display of artistic talent (it seems that anyone witty enough with a black Sharpie and a piece of paper could reach a similar end), they reveal his ability to make comic sense of the absurd and the obvious.
The British artist's current exhibition at the Yerba Buena Center for the Arts, Brain Activity, starts in a room bearing a gate at its entrance, the instruction, "Do Not Linger at the Gate" wrought into the steel. Past this threshold, the walls are covered in drawings. Many bear inscriptions that, without the context of the other illustrations, might be quite disturbing. ("WE ARE RULED BY THE DEVIL" claims one such piece of paper.) Some speak to potentially legitimate truths (a man holds a flag that says, "Ants Have Sex in your Beer"). Because of their sheer number, the drawings contain sentiments that will appeal to anyone who takes five minutes to scan up and down the walls. Shrigley has a talent with words, which he uses to evoke laughter and recognition at those inner sentiments we perhaps would not want to express ourselves.
Always get the last word.
Updates and special offers straight to your inbox.
Keep up with the latest from ZYZZYVA by subscribing to our newsletter.
By subscribing, you agree to our Terms of Use and acknowledge that your information will be used as described in our Privacy Notice.
The rest of the exhibition confirms the prolificacy we saw in the first room, but without sacrificing thematic consistencies. One room showcases some of Shrigley's sculptures. Among others: a walnut, a slice of chocolate cake, and a thin and spindly index finger as tall as the artist himself. Looking more closely, however, Shrigley maintains a steady focus. He is fond of death and taxidermy, having fashioned a squirrel holding its detached head, a puppy carrying a sign, and a dead rat lying on a spot of undecorated ground (this one succeeded in raising the question, Is that supposed to be part of the exhibit?).
Despite its grim themes, Shrigley's art does not depress. He has no problem saying exactly what he wants to say, like with his taxidermied puppy, whose sign reads, "I'm Dead." In its simplicity, the message becomes somewhat playful. Why overcomplicate things? Shrigley seems to be asking.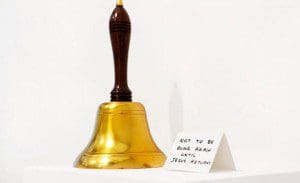 Brain Activity includes a few short films, which are distributed throughout the museum space. Some are simple, just a few seconds long; others require a little more time to watch. But they share the ability to make us laugh and at the same time pause to question some of their underlying implications.
Shrigley presents serious themes in a direct and lighthearted way, reminding us not to belabor the point, but to understand his work for what it plainly states––then move on to the next. Take the drawing, the sculpture, or the headless animal as you will, but enjoy it for its strangeness, and for the fun Shrigley must have had creating it.
David Shrigley: Brain Activity runs through September 23 at the Main Galleries of Yerba Buena Center for the Arts, 701 Mission St., San Francisco.