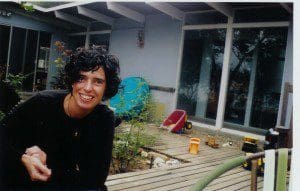 When I met her at the Iowa Writers' Workshop in 1989, Margaret Weatherford was the California girl the Beach Boys never imagined: a black-haired, amber-eyed bombshell with her own professional pool cue and a dude's tolerance for rail whiskey. I was her fan before I was her friend, because – if the first rule of writing school is to write what you know – it was obvious that Margaret knew things no one else could have possibly dreamed up. Her stories were populated by melancholy children, oracular father figures, animal grotesques and obsolete muscle cars. Like me, she had just graduated from college, but to read her you'd have thought she'd been circling the canyons and freeways of Los Angeles for centuries, honing a hawk's omniscient view of its dive bars and roadside alliances, its secretive, peripherally glanced creatures and its inexorable undergrowth, which always seems poised for imminent, impersonal takeover.
As it turned out, Margaret was the rare guys' girl who was also a steadfast friend to a certain kind of woman, and over the years I was lucky to be around to watch her become a bride, a mother, a published author, an artist's muse, a first-time novelist: a self-deprecating success at everything she put her mind to. Less than two weeks ago I sat beside her in her canyon-top home as she named me her "literary executrix," a title she'd scarcely pronounced before she dissolved in laughter, dropping her usual unflappable monotone to shout, "I feel like such an idiot!"
Always get the last word.
Updates and special offers straight to your inbox.
Keep up with the latest from ZYZZYVA by subscribing to our newsletter.
By subscribing, you agree to our Terms of Use and acknowledge that your information will be used as described in our Privacy Notice.
It was a job I was reluctant to accept, because even then — in the presence of the oxygen machine she jokingly offered to share when I got choked up, after the diagnosis of end-stage cancer and the transition to hospice care, despite everything I rationally knew about what happens when oncologists abruptly decide to stop treatment — I still envisioned a scenario in which Margaret, in her measured, unblinking way, would outlast the disease that was destroying her physically. I could not – and still cannot, if I'm totally honest – accept or endorse the idea of a world without Margaret in it, in which I (a fallible narrator at best, a chronically blocked writer with a blinkered East Coast sensibility) was somehow responsible for ensuring that her incomparable voice would be heard beyond the confines of my head and the wrecked hearts of everyone else that was losing her.
With her signature combination of grit and grace, Margaret went ahead and died anyway last Friday, March 30, 2012, her athlete's body lasting long enough to give even holdouts like me a chance to accept that her triumph over cancer would take a subtler, more realist form than miraculous recovery. She is survived by her husband, Paul, her son, Ford, her siblings, parents, in-laws, extended family, her diaspora of friends and admirers and her brilliant, thrilling, singularly Weatherfordian unfinished novel, which it is now my privilege to keep company with until it completes the vision that Margaret spent an improbably rich, regrettably brief lifetime perfecting.
Through the pieces currently in print and still to be published, Margaret remains present for all of us who miss her and awaits discovery for unfortunates who've yet to visit the twisting, deathtrap roads and shadeless breakdown lanes of a Los Angeles only she could see. To read her is to encounter something utterly unique and transportingly strange: a neo-noir heroine, master of the meaningful pause and sustained poker face — the unforgettable Margaret Weatherford, 1966-2012.