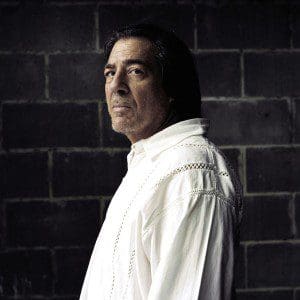 Dagoberto Gilb is arguably the most critically acclaimed Mexican American author writing today, with a publication resume few writers of any background can claim: The New Yorker, The Threepenny Review, Harper's, Texas Monthly, The New York Times, The Nation. The author of six books, he won a PEN/Hemingway Award for his first story collection The Magic of Blood (1993), which was also a finalist for the PEN/Faulkner. His first novel, The Last Known Residence of Mickey Acuna (1995), was a New York Times Book Review Notable Book of the Year, and his second novel, The Flowers (2008), was praised by Larry McMurtry and named one of the Best Books of the Year by The San Francisco Chronicle. Gritos, his 2003 collection of essays, was a finalist for a National Book Critics Circle award. He has received a Whiting Award and a Guggenheim Fellowship, and has appeared in the Best American Essays and Pushcart Prize anthologies. He is now the executive director of Centro Victoria: Center for Mexican American Literature and Culture.
Originally from Los Angeles (his story "Shout" appeared in ZYZZYVA's Winter 1987 issue), Gilb has since lived in Texas: El Paso and now Austin, his home. His new book, the story collection Before the End, After the Beginning (Grove; 194 pages), reflects that, with pieces set in all three places. The book's ten stories also pick up the working-class MexAm (as Gilb likes to call Mexican Americans) milieu from his past works and make the exquisitely careful explorations of the human condition — love and lust, identity and confusion, weakness and death – his readers have come to expect and revere him for. Before the End, After the Beginning is, simply, a marvelous book by one of the country's best story writers, period.
Over e-mail, Gilb talked about his career (despite all the accolades, his "writing gets treated as if it's from my groin, with my muscles, from my spicy juices—and NEVER my brain"), Latino literature ("History is what we are in. These are early years in the literary Latino-ization of America") and the new book.
ZYZZYVA: Do you still see yourself as a West Coast writer? You come back to Los Angeles again and again in your writing though you've been in Texas all these years.
Dagoberto Gilb: I've lost my sense of coasts—I only know I'm not in New York City. I mostly think of where I live as part of the same region, which is the Southwest one. Not the Northwestern quadrangle, Northeastern, or the Southeastern one, either. Not the Ohio Indiana middle-of-America. Maybe where I live, Austin, is the east coast of the West. I just got back from L.A. Is Austin more like part of it, or is it more like just the hip white part of L.A.? I miss my life in El Paso, a city which reminds me, always, of where I grew up in L.A., near the same railroad tracks, even. That's all about cultural cues and signs, the poverty. (Though in L.A., on Pico, I went to the "new" Oaxacan village area, which was not there when I was young, and it was very cool). In Austin, my neighborhood is like my view of L.A. was, a sort of declining, post-mini-malled street behind me, immigrant stores, oil stained parking slots, La Michoacana and Club Carnaval, cops cruising cat-slow at night. An older, Rio Grande Valley raza family lives in the house to the east of my own, young newlyweds are in the newer house to my west.
Z: What's the literary scene like in Texas, as compared to out here?
Always get the last word.
Updates and special offers straight to your inbox.
Keep up with the latest from ZYZZYVA by subscribing to our newsletter.
By subscribing, you agree to our Terms of Use and acknowledge that your information will be used as described in our Privacy Notice.
DG: I wasn't much in the literary scene when I lived in L.A. Definitely not growing up, not even close, and when those "post-grad" years came and I'd begun writing, hardly publishing, I was doing union construction work and raising my family, so I knew little about any literary scene. In contrast, El Paso had poets and writers around all the time. Gary Snyder. Robert Bly. Raymond Carver. Jim Crumley. Here in Austin, a medium-sized city with lots of hipster music, there are writers always coming through, too (Texas State has an MFA program, and there's the Michener Center at UT Austin), and I get to meet many. Américo Paredes was here until he passed. Rolando Hinojosa I see fairly often. The past few months I've been hanging out with ZZ Packer. A few nights ago at a gala I caught up with Lawrence Wright, who I hadn't run into for a few years. Tim O'Brien lives down the road. Today I had afternoon coffee with Beverly Lowry. Once I was out to dinner with James McMurtry, the singer, his then wife, and his dad, Larry, when a starry-eyed dude started hovering around us. He finally approached. "Aren't you Dagoberto Gilb?" he asked me, not even noticing them. That was hilarious. No idea why I'm saying it here, except it still makes me laugh.
Z: What does Latino literature mean to you, in the context of contemporary U.S. literature? Would you like to guess what the future is of Latino literature?
DG: Such an innocent question, asked so casually! Latino lit still has virtually no place in mainstream American literature. Sandra Cisneros has owned the one permitted spot for the last 25 years. Before her there was Rudy Anaya. Junot Diaz has transcended them both recently because New York is his home, or better said, people there see his life as their wild, ethnic, other-side-of-the-tracks own. For the rest of us there's little interest. I do what is considered "well" (books reviewed positively, even in the NYTBR — I exclaim, the one for this new book of mine real good!), but my sales are more aligned to, say, a writer from Ecuador or Uruguay. You name the others, the "important" names you hear of often, and they get stuffed advances, have posh jobs at Princeton or NYU, and so on. There are a few of us who aren't born well (which is, incidentally, as much about being American "Latino" as ethnicity) or don't have perfect writing pedigrees (this is another issue for another question another time), few without that 1 percent pre-ordained life.
It has to change, especially with the dust bowl of this economic era. Then there are demographics. Latinos, particularly Mexican Americans who make up at least 70 percent of Latinos, are finally going to college in larger numbers. And I do see young, STRONG writers and poets coming up and getting published, but we desperately need our own economic and cultural base to expand among ourselves to force the attention of the East Coast (even the mainstream West!): we need more time. We need to educate our own on supporting our own. Unlike the mainstream writers, even African American writers making it, we don't have, for instance, a wealthy art patronage that would, for example, produce one major movie, let alone a decade's worth of them.
Z: When you said that some readers look at Junot Diaz's work as representing the world of some wild ethnic other, I couldn't help but think how your work has labored under that sort of perception, too, right? With some critics calling it "macho," as if it came from some sort of primal place rather than an intellectual one.
DG: I count two special stereotypes that have become tacit to discussion of my work that have nothing to do with the writing. One is the old Latin Lover caricature: my brains are between my legs. Like discussing "Negroes" in the '50s, my sexuality seems to consume others' perception of me.
The second one seems to be my "chile" steroided by my history of being working class—of spending almost two decades wearing a hardhat — a union, high-rise carpenter. (Uh oh, yes, here's proof of what can only be testosteroned pride!) This rasps at both the academic Latinos (and more so some Chicanas who have to fight against a poor, almost 17th century males-rule structure) and at the mainstream lit world that is no longer exposed to anyone, and especially artists, who've done sweaty jobs for a living (to raise a family no less) to the point that all work outside a university or an office seems macho aggressive. My writing gets treated as if it's from my groin, with my muscles, from my spicy juices—and NEVER my brain, in solitude, as a willful act of art. It is interesting that, on the whole, this latest collection has generally been reviewed from the POV of intelligence. I suggest it's because since my brain was damaged people are considering the work as coming from there —as though it didn't before.
Z: You're now the executive director and artist-in-residence at the Center for Mexican American Literature and Culture at the University of Houston-Victoria. Can you tell me about the Center and what its mission is?
DG: Speaking of posh jobs, that's what I got, except mine is in Victoria, Texas. No one else knows where it is, either. It's great for me, and I love it. The center is doing so much. Our mission is to insert Mexican American life and history into the intellectual mainstream. We have produced a bound, textbook version of a six-week curriculum of Mexican American literature and culture for Texas high schools called Made in Texas. We believe it is important for all the students of the state, of all ethnicities, to understand the historical culture that is the very land they live in—especially considering that there has been little to virtually no reference to it anywhere else. We ambitiously hope to expand this across the Southwest, then the country. We are publishing what I submit is the first national Latino literary magazine, Huizache.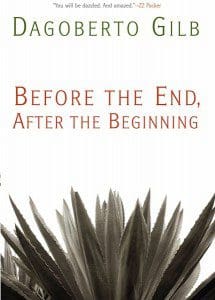 Z: We talked earlier about how much I liked your story "Hacia Teotitlan." It is a masterful piece of fiction, a story in which a Mexican American man finds himself utterly adrift in Oaxaca. What was the inspiration behind it?
DG: Pretty awkward to write about death.  Not hard to set a story in beautiful Oaxaca. I really thought I was moving there—my new job allowed me to split my year, and I had decided to make the other half there. I lived not far from where my character Ramiro did, though my departamento was more of an exotic fantasy, with hamacas, mosquiteros…even more of a dream now that three years have passed, and I'm here in Texas still, and I'm not dead. That trip to Teotitlán del Valle, the village of the most beautiful rugs, I took, though it was only one of many there. And I was getting single word "lessons" in Zapotec. Much, like all my fiction, was culled from various experiences and locales and the imagination. I still want to go back to Oaxaca. My own health incident interrupted my plans to settle there. I want to write in Mexico. I want to write my entire next novel there, and I think now, finally, I can.
Z: In your story "Cheap," I thought you perfectly captured the anxieties and ironies of class, specifically among Mexican Americans. Could you talk a little bit more about that?
DG: I am pleased that the story was published in Texas Monthly (the glossy, rich mag of Texas), mostly because I think it's a conversation that much of Texas, above all Texas Monthly readers and advertisers, don't have: that the Mexican workers they are so used to hiring cheap have lives, thoughts, voices, history, and that the Rick Perry-type bosses have selfish, mean-spirited, religious ideas and, though broken and wobbly, wield racist economic power. No surprise to most of us who will be reading this, but I will say that it isn't written about much in fiction. And I lived that work world. The main character, a Chicano from El Paso who is a classical guitarist (not their cliché, in other words), battles with both his past and present as a professional individual and a member of his family heritage, and is one who is losing sight. (Metaphor alert!) I tried to make all the stories about someone who both had "something" and was losing it, too. What I think a collection of short fiction can do—and that I believe is underestimated and undervalued by arbiters of lit (who think the "big" novel offers so much more than a volume of stories)—is, like poetry, write "small" to speak large. Artistically it's like the rings in gymnastics, not a running event like a marathon.
Z: In the opening piece, "please, thank you," you do a lot with the text itself to represent not only what it's like to experience a stroke but what it's like to work through the damage caused by one. Did you settle on the story's style – sentences all lowercase, no apostrophes, etc. – right away or did that come later?
DG: This is easy: Mr. Sanchez, the main character, had a stroke, and so did I. This was not something I cleverly invented in a class. It was the very first thing I wrote coming out of my own, and the struggle he has was mine. Though his typing was much easier in many ways, at least as far as the reader knows, because the typos and errors were far greater than is seen in the piece (as they are writing this. I still struggle…well, maybe not massively, but unpleasantly). It's still an effort for me to hit the shift key and for the one finger I use on the right hand to then hit the correct key. I consider leaving the typos in a sentence or two here as well (don't). The good news, the great news, is that I get to do this still, and though my right hand is damaged (it doesn't hold a pen, I can't even autograph my new book, which makes me sad because it was the best job I will ever have had), I still go, I still write, and I love that so much. I have learned to scribble my initials in my books, so please don't give up on me.
Z: You are the only identifiably Mexican American writer to have his fiction or nonfiction published in The New Yorker. Your work is regularly published in Harper's. There's even a story from the new collection that ran in The Threepenny Review. You've won prestigious fellowships and awards, too. Yet you see yourself as apart from your established literary peers.
DG: I'm not sure what the right way to talk about this is. I am aware that I have published even better than most who are doing commercially well in the mainstream. I'd say it's because of that that I notice my comparably "established literary peers" are doing a ton better. Why do I need to be discovered still so often by readers (even or especially Latino ones)? Why is it that my books don't sell? Setting aside the possibility that it's because I suck as a writer (and have somehow duped editors and publishers and reviewers), there has to be another reason. I consider it thus: I don't think it's me at all, not me personally, because people don't know me or much about me, and most of what information does exist is stereotyped projections.
My career is a metaphor for the Mexican American community itself—here we are/I am, but somehow we/I are not seen unless it's in the context of a hot jalapeño. This business of literature is run on a product model, and sales matter. I am a stock, and I am not Apple; we are not Pixar. We live in poor real estate neighborhoods, and buyers shop where they're comfortable, familiar.
More metaphor: a story of mine will be in the next annual O'Henry Prize collection. It will be the second time in history that a story by a Mexican American will be included in the series; the other one was published two years ago (by Manuel Muñoz). (There's still no story by a MexAm to have ever been included in the Best American Short Story series.) How should I feel? Sure, it's nice. Yet I am not young, at the beginning of my career. I was not young when my first collection, after being rejected endlessly in New York, was finally published by the University of New Mexico Press. I've published at least fifty different stories in thirty years, in the best magazines in the country. Do I say I am part of the literary establishment, or is "my" history just a little outside?
There is one large aspect that implicates me personally. I am not a good salesman of my work, able to hype it like a motivational speaker does, as being good for the world and for my readers who buy it and all that sappy blah blah. I only hope people like my work, and I am grateful to be published at all. In this I'm very old school, other century there, the kind who wants to do the work, let it be the thing, the other not so much. (I find it embarrassing to pump and promote, so much so that I am suspicious of those who do it so well, even as it seems part of the job expectation now.) In my defense, however, I would point out that those mainstream peers who are given mainstream support have never had to hype their work, either, and that has done nothing to damage their career, nor has their been an expectation for them to do otherwise.
History is what we are in. These are early years in the literary Latino-ization of America. I am absolutely sure that, among all those poblanos washing dishes at restaurants in New York City now, a young daughter or son is reading, and, once grown, will be writing, and will be discovered by The New Yorker, and the entire country will learn lots have been doing art here in the West all along, for a couple hundred years, in fact.