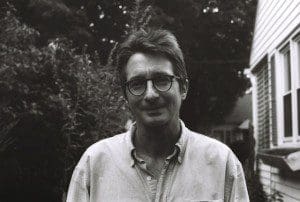 ZYZZYVA and the Squaw Valley Community of Writers team up to present a Bay Area evening of esteemed poets and writers celebrating Dean Young's successful heart transplant with readings from their own work and from Dean Young's poetry, too. The event is at 7 p.m. on Thursday, June 23, at Wheeler Hall, Maude Fife Room 315, University of California, Berkeley. Admission is free.
Part of a growing, national fundraising campaign to help cover the enormous expenses around the heart transplant, this event will feature a who's who of poets and writers from the Bay Area and from across the country. (Dean Young and his new book were recently featured on NPR's "Morning Edition.")
Always get the last word.
Updates and special offers straight to your inbox.
Keep up with the latest from ZYZZYVA by subscribing to our newsletter.
By subscribing, you agree to our Terms of Use and acknowledge that your information will be used as described in our Privacy Notice.
Robert Hass – served as Poet Laureate of the United States from 1995 to 1997 and directs the Poetry Program of the Community of Writers at Squaw Valley.
W.S. Di Piero – is a poet, translator, and essayist whose latest works include Chinese Apples: New and Selected Poems
Octavio Solis – is the nationally recognized director and playwright of several dramas, including El Paso Blue and Santo & Santo
Brenda Hillman – is the author of eight collections of poetry, the most recent of which are Pieces of Air in the Epic and Practical Water
D.A. Powell – is the award-winning author of several poetry books including Cocktails and Chronic
Troy Jollimore – is a winner of the National Book Critics Circle Award for his poetry collection Tom Thomson in Purgatory
Michael Wiegers – is the executive editor of Copper Canyon Press
Dora Malech – is the author of the poetry collections Shore Ordered Ocean and Say So
Joseph Di Prisco – is a writer, novelist, and poet and author of the poetry collection Poems in Which
David Breskin – is a writer, poet, and record producer and author of the poetry collections Escape Velocity and Supermodel
Oscar Villalon, managing editor of ZYZZYVA, will emcee
Donation stations will be set up for the event. Signed copies of Dean Young's new book, "Fall Higher," as well as specially commissioned broadsides of his poems, will be available. A reception featuring wine and snacks will follow the readings. People unable to attend can help by visiting www.transplants.org/donate/deanyoung and making a donation there.