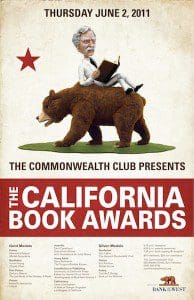 Year after year — since 1931 — the California Book Awards, sponsored by the Commonwealth Club of California, has steadfastly proven what anybody living in the Golden State should already know: We're not hurting for fine authors. All kinds of authors. Authors who go on to win National Book Awards, PEN/Faulkners, Pulitzers, even Nobels. (If you go here, you can see for yourself the long list of distinguished authors bestowed with a silver or gold medal from the California Book Awards over the decades. The long list includes John Steinbeck, M.F.K. Fisher, Wallace Stegner, Czeslaw Milosz, Gina Berriault, William Saroyan, Diane Middlebrook, Upton Sinclair, Amy Tan, Carey McWilliams, Will and Ariel Durant, Aldous Huxley, Beverly Cleary, Ray Bradbury, Oakley Hall, Richard Rodriguez, Ernest Gaines, Michael Chabon, and so many more.)
This is an annual celebration of the state's best by a California cultural institution more than a century old. It's an annual event that has honored authors long before they got the official nod from Columbia University or Stockholm. And it may be the most welcoming of literary award ceremonies, allowing the public to attend the day of honor and mingle with the authors; they can even get a signed copies of the honored books. (The National Book Critics Circle Awards is the only other event that's as welcoming to readers, who are, after all, the lifeblood of literary culture.)
Always get the last word.
Updates and special offers straight to your inbox.
Keep up with the latest from ZYZZYVA by subscribing to our newsletter.
By subscribing, you agree to our Terms of Use and acknowledge that your information will be used as described in our Privacy Notice.
On June 2, the 80th Annual California Book Awards will be taking place. (You can order tickets here.) Among the authors receiving medals that night are Eric Puchner, Karen Tei Yamashita, Yunte Huang, Alexandra Teague, and the University of California Press (for its publication of Autobiography of Mark Twain, Vol. 1). The awards will be emceed by Jack Boulware, co-founder and co-director of the literary festival Litquake. The crowd is happy and diverse. The speeches are heartfelt, even entertaining. The mood is heartening. And the books are very, very good.