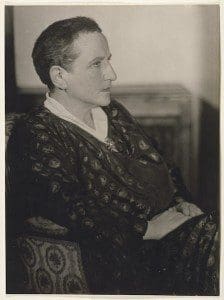 In a 1924 print by Henri Manuel, featured as part of a new exhibition at the Contemporary Jewish Museum, Gertrude Stein is at work. Avoiding the camera, she sits dressed in a dark jacket and regal brooch, a pen in one hand; before her, a single sheet of paper glows luminously against the desk. The retrospective show, which examines both the biography and cultural influence of the lauded American-Jewish writer, contains innumerable inventions of both portrayal and homage. Stein, a patron of renowned artists from Picasso to Thorton Wilder and collaborator with musicians such as Virgil Thomson — with whom she wrote the play Four Saints in Three Acts — becomes a creation of art herself, the subject of paintings, photographs, and sculptures, obfuscating the same boundaries between artistic disciplines as she did with her life and work.
Over the course of five sections, "Seeing Gertrude Stein: Five Stories" weaves a narrative that covers everything from Stein's birth in Allegheny, Pennsylvania, and upbringing in Oakland, California, to her relationship with Alice B. Toklas. What emerges is a portrait of an individual who possessed a power singular in the art world, a disposition both feared and revered. Picasso's 1906 painting of Stein depicts a woman whose ponderousness is tempered by resolve; likewise, American sculptor Jo Davidson's bronze Buddha-esque evocation of a cross-legged Stein emanates a sense of authority. But the woman at the center of "Seeing Gertrude Stein: Five Stories" takes on a mythic aura because of her straightforwardness, not despite of it. "When they ask me why I don't write what I saw, I answer quite simply that of course I write as I saw because I talk exactly as I write," said Stein in a 1934 video in which she reads from the libretto for Four Saints in Three Acts.
Always get the last word.
Updates and special offers straight to your inbox.
Keep up with the latest from ZYZZYVA by subscribing to our newsletter.
By subscribing, you agree to our Terms of Use and acknowledge that your information will be used as described in our Privacy Notice.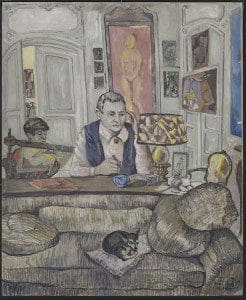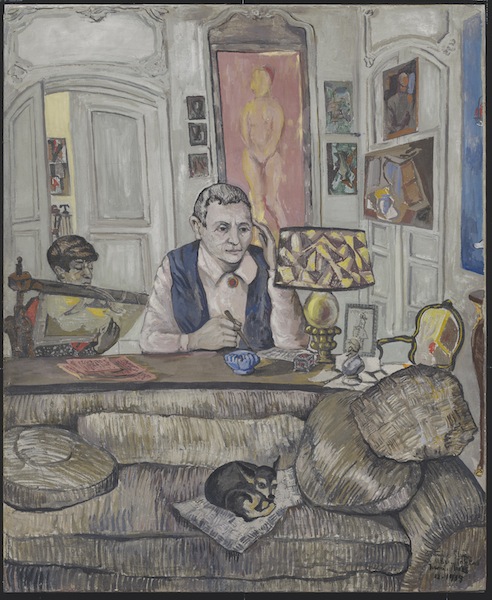 Indeed, the allergy to commas and other requisites of conventionality native to many of her better-known works bleeds through in a line she culls from the play: "Pigeons on the grass alas. Short longer grass short longer longer shorter yellow grass. Pigeons large pigeons on the shorter longer yellow grass alas pigeons on the grass." The same energy is captured in one of the writer's most cited lines: "Rose is a rose is a rose is a rose," taken from her 1913 poem "Sacred Emily," and embroidered into a scarf given to her by her friend, Sir Francis Cyril Rose, as a tribute. Stein, credited by some with naming the group of expatriate writers including Hemingway and others the "Lost Generation," spent most of her life in France. From 1934 to 1935, however, she made a pilgrimage to her home country, visiting 37 cities in 23 states.
The exhibition, rich with never-before-seen manuscripts and artifacts from Stein's life — even including one of her brooch pins — also includes a trove of relatively recent tributes to the noted author's life. Devorah Sperber's "After Picasso (Gertrude Stein)" (2006) epitomizes the sense of re-appropriation that so many elements of the show seem to make of Stein's profuse presence in the international artistic consciousness. In it, the eponymous painter's portrait of Stein is hung upside down, approximated by spools of thread on chains in lieu of paint. Viewed through a clear acrylic ball mounted on a pole, the pixelated colors inverse, conjuring the writer's face. Also striking is Terry Berlier's "Human Tuning Fork #4 (World Turning)," an amalgam of wires and 242 telephone speakers — one for each country and territory in the world  — that play back recordings of Stein's Many Many Women.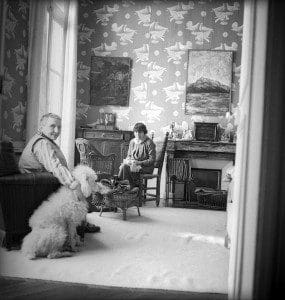 Stein, who remains somewhat infamous in the San Francisco Bay Area for her truncated quote, "There is no there there," finds her intricate story told in the CJM's exhibition. (Referring ostensibly to the city of Oakland, Stein's quote is actually about not being able to find her childhood home upon returning to Oakland much later in life. Today, at the intersection of Adeline Street and Martin Luther King, Jr. Way on the Oakland-Berkeley border, artist Steve Gillman's embodiment of Stein's misunderstood epigram stands in tall steel letters, with "HERE" on the Berkeley side and "THERE" on Oakland's side.) The show is made all the more compelling for its willingness to acknowledge the author's shortcomings as well as her manifold strengths; the imposing ego that earned her the title of taste-maker in the art world also put off many, and ended more than one friendship. And yet this element is inextricable from Stein's human and literary personality. She was as certain of the worth of her protégés as she was of her place in the pantheon. "'Gertrude Stein is among Gertrude Stein's favorite authors,' she said today," the Associated Press reported her as saying in 1934.
In "Seeing Gertrude Stein: Five Stories," the woman revered for helping to launch the careers of artists such as Picasso, noted for her appreciation of art forms beyond the literary, and admired for her unwillingness to apologize for her unorthodox life finds a more fitting study. Like Sperber's deft portrait, Gertrude Stein is never quite right-side-up, never one color, and it is this refusal of categorization that keeps her contributions to literature and art from the dustbins of history.
"Gertrude Stein: Five Stories" runs through Sept. 6 at the Contemporary Jewish Museum, 736 Mission St. (between 3rd & 4th streets), San Francisco. For more information visit www.thecjm.org.